| Artist | Title | Album | Label | Link |
| --- | --- | --- | --- | --- |
| | | | | |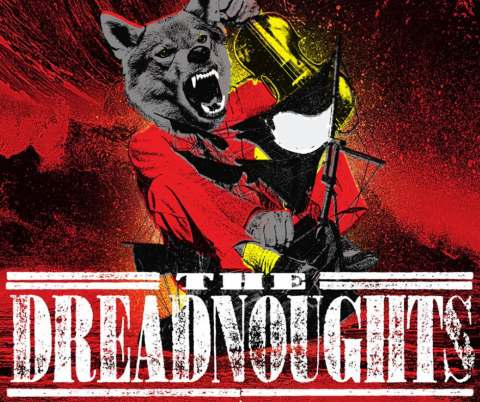 Greeting Ghouls,
This week I was joined in the studio by long time friends of the show, Squidly and Marco of The Dreadnoughts. Over the years, I've had the pleasure of hosting these hooligans more times than any other band I know. So, tonight I decided to look back a little, and share at least 1 song from every album across their entire catalog; filling up the entire first hour with some of the finest cider soaked, polka punk that ever stumbled out of this city. The reason for such celebration, is due to the fact that our dear Dreadnoughts are back once again for their 3rd annual St. Patricks Day Punkstravaganza; taking place at the infamous Rickshaw Theatre on Fri, Mar 15th & Sat, Mar 16th.
Tonight, I had a chance to catch up with the boys and learn what they've been up to since the release of their last effort "Froiegn Skies." We learned all about the upcoming 2 day St. Pattys Day event, and were somehow still able to inject a ton of the other bands, featured at this years astounding annual event, into the 2nd half of this weeks show. Add in a few classic Marco & Squidly conversations, and somehow manage to book a last minute band onto the actual bill we were plugging, and you've got yourself this weeks episode. But enough of me, Listen to one of the best damn bands to ever come out of vancouver & make sure your do yourself a favor, go to the gig next week, you can thank me later. Catch you creeps next week, - Jonny Bones
Playlist:
The Dreadnoughts "Old Maui" - Roll & Go (Legends Never Die)
The Dreadnoughts "Fire Marshall Willie" - Roll & Go (Legends Never Die)
The Dreadnoughts "Ivanhoe" - Victory Square
The Dreadnoughts "The West Country" - Victory Square
The Dreadnoughts "Cider Drinker Marches On" - Cider Punx Unite
The Dreadnoughts "Defiants" - Uncle Touchy Goes To College
The Dreadnoughts "Cider Road" - Polka's Not Dead
The Dreadnoughts "Black Sea Gale" - Polka's Not Dead
The Dreadnoughts "Jericho" - Foreign Skies
The Dreadnoughts "Gavrilo" - Foreign Skies
The Gung-Ho's "The Least Of My Worries" - The Gung-Ho's
ATD "Phantom Limb" - Kill Your Selfie
Brass "Bad Habits" - For Everyone
Campfire Shitkickers "Ode To O.D." - R.D. Cane Video
North By North "Pistoletta" - Last Days Of Magic
Polka Time "Perogie Polka" - Live & Tipsy
Pet Blessings "Darling" - Rocket From Russia Comp
C U Next Tuesdays "Brusier" - Fight, Fuck, Drink, Destroy
Kunt and The Gang "A Lonely Wank In A Travelodge" - Kunty Mc Kunts Greatest Hits The Single
The Judges "Gavel Road / Justice" - Live From The Halls Of Justice
The Highsides "You Got A Friend In Me" - Put It OUt There
Highlighted/Featured Program:
Posted on:

8 March 2019

By:

JonnyBones