Rad Radio playlist for 01/03/2019
| Artist | Title | Album | Label | Link |
| --- | --- | --- | --- | --- |
| | | | | |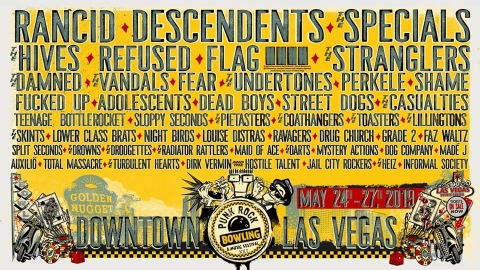 Greeting Ghouls, 
 Not a lot a talk, just a shit ton of Punk Rock this week as we spun you a tremendous taste of all the amazing bands you can experience this year at the 21st annual Punk Rock Bowling & Music Festival happening May 24th-27th in Sin City itself, LAS VEGAS!
If you've never made the trip down to the desert to experience this last bastion of pure punk rock, I highly suggest you save up your pennies and turn in all your tin cans for their deposits and buy youself a ticket, as this years line up in absolutely stacked! If you're looking for the best bang for your concert going buck, you can NOT do any better than this 3 day festival. 
We spun tunes for 2 hours straight and we still couldn't fit in songs from every band playing the main festival. Add that in with all the free pool party shows and various club shows happening across old vegas and you've got yourself  a bonafide recipe for rad!
Tune in next week when we'll have more tunes, some local happenings to chat about and other various odds and sods that we manage to come up with. Until next week...
Keep Creepin'
 - Jonny Bones
Tracklist:
The Specials "Little Bitch" - The Specials
Rancid "Cold, Cold Blood" - Troublemaker
Descendents "Rotting Out" - Everything Sucks
The Refused "New Noise" - The Shape Of Punk To Come
Black Flag "Rise Above" - Damaged
The Hives "Walk Idiot Walk" - Tyrannosaruses Hives
The Damned "Machine Gun Etiquette" - Machine Gun Etiquette
The Stranglers "No More Heros" - No More Heros
The Vandals "Money's Not An Issue" - Hitler Bad, Vandals Good
Fear "I Love Living In The City" - Living In the City 7"
The Undertones "Teenage Kicks" - Teenage Kicks
Perkele "Heart Full Of Pride" - No Shame
Shame "Tasteless" - Songs Of Praise
Adolescents "Kids Of The Black Hole" - Adolescents
Fucked Up "Raise Your Voice Joyce" - Dose Your Dreams
Dead Boys "Sonic Reducer" - Young, Loud & Snotty
Street Dogs "Two Angry Kids" - State Of Grace
Sloppy Seconds "Fifteen Minutes Or Its Free" - More Troble Than They're Worth
The Casualties "Ashes Of My Enemies" - Written In Blood
Teenage Bottle Rocket "Haunted House" - Tales From Wyoming
The Toasters "Don't Let The Bastards Grind You Down" - Don't Let The Bastards Grind You Down
The Pietasters "Out All Night" - Willis
The Skints "This Town" - FM
The Coathangers "Hurricane" - Larceny & Old Lace
Louise Distras "Land of Dope and Glory" - Street Revolution
The Lillingtons "Insect Nightmare" - Stella Sapiente
Ravagers "Just Another Rad" - Natural Instinct
Lower Class Brats "Ultra Violence" - Rather Be Hated Than Ignored
Night Birds "My Dad Is The BTK" - Roll Credits
Grade 2 "All I Know" - Mainstream View
Faz Waltz "Good Time Is Callin' Loud" - Callin' Loud
Drug Church "Avoidarama" - Cheer
The Split Seconds "Everybodys Wrong" - Counterfeit Reality
The Drowns "Eternal Debate" - Eternal Debate
The Radiator Rattlers "Hold On" - Hold On
The Droogettes "Hooligans" - Vice Squad/Droogettes Split
Maid Of Ace "Made In England" - Maid In England
Highlighted/Featured Program:
Posted on:

25 January 2019

By:

JonnyBones