History
CJSF Radio has been around since the early days of Simon Fraser University, first as a music club, then an oddball, unlicensed radio station that was heard from a series of speakers placed around the campus.
In 1974, a group of volunteers began a non-profit society to operate the radio station. Registered under the Society Act of BC, the Simon Fraser Campus Radio Society (SFCRS) was established. The SFCRS remains the organization that runs the radio station.
Since its beginnings as a renegade station, CJSF has gone through several stages of broadcast development. The first major step came in 1980, the year the station obtained an AM broadcasting license to broadcast on campus to Shell and Louis Riel Houses through an application to the CRTC. Next was the move to cable FM in 1985. Cable broadcasting brought the station to listeners in the community through cable systems in the Lower Mainland.
In October of 1987 the station made its first application to the CRTC for an FM broadcasting license to replace the AM/cable FM license. On February 23, 1989, station members attended a CRTC hearing in the Hotel Vancouver. Unfortunately they were denied an FM broadcasting license shortly thereafter.
In the years between 1987 and the early nineties the station began efforts to establish the station as a more serious broadcaster on the campus and in the community; to provide programming that differed from the format and practices of commercial radio. It grew into its role as a campus/community broadcaster during this period.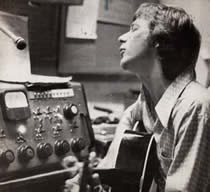 In June of 1998 CJSF applied for another FM broadcast license to broadcast on one of the few remaining frequencies available in the Lower Mainland.
From 1998 to 2002 the station battled the bureaucracy of the CRTC befroe finally being awarded it's coveted FM frequency in the summer of 2002.
On February 13, 2003 CJSF went on the air at 7pm. We've been changing the sound of Vancouver radio ever since.
The station is developing a closer connection with the campus and community, and continues to work on improving and strengthening its music and spoken word programming.
In its early days, CJSF was known as CSFU, then CKSF. In 1984 the call letters were changed to CJIV in order to gain commercial appeal. In 1991, station members voted to change the call letters again and in 1992 the station changed its call letters to CJSF.