Rad Radio playlist for 01/31/2019
| Artist | Title | Album | Label | Link |
| --- | --- | --- | --- | --- |
| | | | | |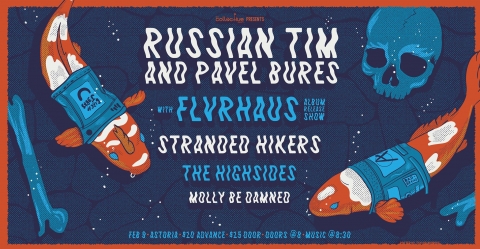 Holy hell did we have a whirlwind of a show this week folks!
 I crawled from the crypt to come up on the mountain to be joined by not one, but two fantastic guest for this week's episode. Up first was Daniel (Of International Bikini Model Fame) who took time from his busy shooting scheudle to chat wit out about the new release from his band Flvrhaus, who will be unleashing their debut full length album this Saturday at the Astoria! Next was the one and only Neil E. Dee of the Danger Thrill Show, who is dedicated to never letting the weird, the strange, the macbre die with his own special brand of sideshow oddities and dangerous feats that will leave you speechless or squeal with gory delight!
You can catch Neil and his morbid band of mongrels all over the city, including this saturday Feb 2nd at the Wise Hall Glam Slam, Next thursday Feb 7th at Lanalous or Friday Feb 8th at the Commerical Leigon Hall! Trust me kiddies, Neil's insane antics are DEFINATLY worth the price of admission!
We also play some tunes to let you know what was happening this weekend, and even gave away some tickets to these variously awesome events. All in all I call that a successful weeks episode! There's a shit ton to do this weekend, so get off your couch and go support some live events!
Until next week!
Keep Creepin'
 - Jonny Bones
Highlighted/Featured Program:
Posted on:

8 February 2019

By:

JonnyBones