Rad Radio playlist for 02/07/2019
| Artist | Title | Album | Label | Link |
| --- | --- | --- | --- | --- |
| | | | | |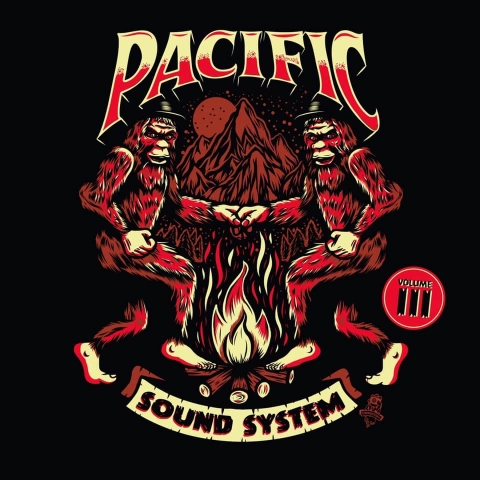 Greetings Ghouls,
 This week I was joined up at the station by Mike from Kownterpoint & S.K.A. for the release of the Pacific Sounsystem Vol. III compilation. If you haven't heard about Pacific Soundsytem by now, you've been doing yourself a disservice. A mad compilation of soo many bands, both local and international from all up and down the west coast, all currently active and every one of them extremely awesome. Do yourself a favor and head to the bandcamp page right now and download yourself a copy, since it's officially available RIGHT NOW!
 If you like what you hear on this new comp, then I suggest you head down to the Railway Club tomorrow night to get a solid taste of this compilations line up. For the low-low price of only $10 you can get yourself in to see the BRASS ACTION, the enigmatic BREHDREN, the lovely BOBBI-JO MOORE and this week's guest KOWNTERPOINT! What more could you ask out of a Friday night?
We also gave you the run down on everything that's happening this weekend, so no excuse to just sit around, GO OUT AND SEE A SHOW!
 Untill next time...
 Keep Creepin'
  - Jonny Bones
Tracklist:
The Brass Action "In The Basement (Scaffolaws Cover)" - Basement EP
Kownterpoint "Manners" - Pacific Soundsystem Vol. III
Actionesse "Menace" - Pacific Soundsystem Vol. III
Big Madge "Smoking Hot Bologene Ragu" - Pacific Soundsystem Vol. III
Brehdren "Space Case Prt. 3" - Pacific Soundsystem Vol. III
Blackwood Kings "Roots" - Pacific Soundsystem Vol. III
Buddy Jay's Jamaican Jazz Band "Space Groove" - Pacific Soundsystem Vol. III
The Upsides "Look Out On That Water" - Pacific Soundsystem Vol. III
Cale Wilcox "Boxed Up Dub" - Pacific Soundsystem Vol. III
Caracas "La Familia" - Pacific Soundsystem Vol. III
Dead End Drive-In "Intimidation Factor" - Pacific Soundsystem Vol. III
Detweiler "Intimidation Factor" - Pacific Soundsystem Vol. III
Kownterpoint "Zig Zag Man" - Homegrown Sound EP
Kownterpoint "Sensi City" - Homegrown Sound EP
Kownterpoint "Dont Drink To Much (In The Sun)" - KownterPoint
Kownterpoint "Facts Of Life" - KownterPoint
Kownterpoint "Ramsack Rhumba" - KownterPoint
Kownterpoint "Set The World Free (Not On Fire)" - KownterPoint
Kownterpoint "Catch Your Breath" - KownterPoint
Kownterpoint "Ain't Got No Time" - KownterPoint
Russian Tim & Pavel Bures "All The Things She Said" - Pacific Soundsystem Vol. III
Jessie Lebourdais "Gaines" - Pacific Soundsystem Vol. III
Jonny Bones "Mr. Rudeboy" - Pacific Soundsystem Vol. III
Hillside Hooligans "You Do" - Pacific Soundsystem Vol. III
Indications "Antichondriac" - Pacific Soundsystem Vol. III
Highlighted/Featured Program:
Posted on:

8 February 2019

By:

JonnyBones