Rad Radio playlist for 05/31/2018
| Artist | Title | Album | Label | Link |
| --- | --- | --- | --- | --- |
| | | | | |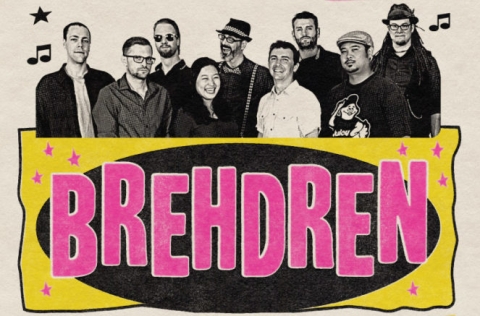 Greeting Ghouls, This week I was joined in the studio by Scott & Ian, 22.3% of the local Vancouver Ska band, BREHDREN. They have been tirelessly working on their new EP entitled "The Classifieds" which gets released this Saturday, June 2nd at the Railway Club. I sat down with the boys and we talked about whats new with the band, spun all of the tracks of the new EP (Including the much anticipated "Space Case III") and laughed an absurd amount about their ridiculously awesome, seemingly endless amount of meta-marketing content that they have created. From a fictional newspaper (Which includes a real functional crossword) to fake movie posters, bobble heads and more. The minds of these two skanksters are always a pleasure to enjoy, but enough of me... on with the show!
Tracklist:
The Interrupters "Title Holder" - Fight The Good Fight
Jimmy Cliff "Ruby Soho" - Sacred Fire EP
Rancid "Hooligans" - Life Won't Wait
Brehdren "Hairline" - The Classifieds
Brehdren "Dan's Haul Crate" - The Classifieds
The Beatdown "Hooligans" - Self Titled
Bobby Six Killer "Burning Fire" - Rude Rock Meets East Side Reggae
The Brass Action "Wreckless" - Single
Space Chimp "Stupid Dog" - Self Titled
Brehdren "Wild West" - The Classified
Brehdren "space Case I" - Out The Window
Brehdren "Space Case II" - Out The Window
Brehdren "Space Case III" - The Classifieds
The Malchicks "Working Class Fairytale" - Winding Back Time
The Malchiks "Dr. Skank N Stein" - Skavant-Garde
Brehdren "Benny Bones" - The Classifieds
Planet Smasher "Missionaries Downfall" - Mighty
Subcity Dwellers "Hold The Pressure Down" - Out In The Streets That's it for another week Creeps, Do yourself a favor and get your butts down to the newly renovated Railway Club. The venue holds a very special place in my heart, and I hope this can be the first of many shows at the venue for our ska scene to once again flourish, but it takes all of us to make these things happen. So lace up your dancing shoes, grab you pork pie hat, and let's do some dancing this weekend!
 Keep Creepin'
  - Jonny Bones
Highlighted/Featured Program:
Posted on:

2 June 2018

By:

JonnyBones