The Renfrew Ravine Moon Festival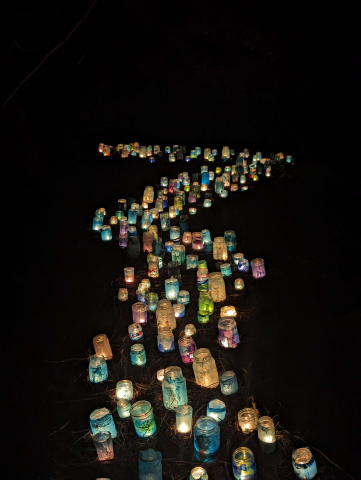 Renfrew–Collingwood doesn't exactly stand out. Kitsilano has beaches and cyclists. Downtown is a forest of glass. Mount Pleasant feels where all of the city's constituent parts bleed into each other. But Renfrew–Collingwood? Until recently, I wouldn't have been able to think of much of anything. It's doesn't have any major thoroughfares like Granville or Hastings. It's a bit too far east for Trout Lake and not west enough to be near Metrotown. Even the City of Vancouver's own website can't muster a more inspiring description than calling it a "primarily residential area".
It may come as a surprise, then, that the neighbourhood's own Renfrew Ravine Moon Festival constitutes one Vancouver's most unique events. Held annually since 2003 on the Autumn Equinox, the Moon Festival bills itself as a blend of creative energy, ecological awareness, and community spirit. Initially organized around a highly successful campaign to revitalize the eponymous Renfrew Ravine, the Moon Festival has since become a local mainstay.
After a week of workshops and scattered performances, the main festival day begins with a fair in Slocan Park accompanied by artistic performances and games. Events got into full swing as the sun set, with a lantern procession forming up to make its way across town to follow the path of Still Creek through the Renfrew Ravine. The parade saw people toting everything from water bottles stuffed with LEDs, Christmas lights wrapped around their bodies, and homemade paper lanterns held aloft. By far the most impressive examples were two paper-mâché lanterns in the shapes of a dragon and a wooden ship, complete with rigging and sails. Winding alongside the banks of the Renfrew Ravine, the hundreds-strong procession was led by a large drum emblazoned with the face of the Green Man of European folklore. Things began to take on a distinctly Middle-earthly feeling as we moved along the procession path, surrounded by elfen-eared ushers, children on stilts, and directed by volunteers in bird costumes past artistic installations which included a stone labyrinth and a chorus of antlered women.
After moving past the Ravine itself, the procession followed Still Creek north to the Community Park, descending into a hollow which had been transformed with hundreds of lights, ranging from candles in mason jars to large, geometrically-patterned lanterns dangling from trees. At this point I fully feel as though I have entered a family-friendly production of Midsommar, and the procession disperses to let attendants explore the site. This central area went mostly unlit, illuminated only by a panoply of papier-mâché lights in the shape of fish, frogs, mushrooms, wolves, meditating figures, and one disconcerting-looking steampunk rabbit. Other exhibits here include a stained-glass pattern projected onto a canvas by light, an entrancing gamelan performance, a mermaid strumming a guitar, and a semi-musical contraption involving glass pipes and smoke that I cannot properly describe. The disorientation and wonder of moving through this bizarre artistic landscape brings home the Moon Festival is a genuine all-ages event, with my twentysomething friend group having a blast alongside families and older couples. We concluded the night with snacks from a merchandise stand, all vowing to return next year with some homemade lanterns of our own.
In an era of tight brand-management, the Moon Festival is radically expansive and messy in all the best ways, and certainly not afraid to be a little bizarre. Ruled by a spooky air of invented tradition that blends pre-Christian European pastiche, East Asian Autumn Festivals, high fantasy, and the creative passion of Renfrew–Collingwood's residents, the Moon Festival is a moving testament to local spirit, mobilizing a genuinely innovative blend of cultural influences to create a one-of-a-kind experience.
Posted on:

4 October 2023

By:

NatBegg