Gossip
On Thursday October 22nd, punk pop act played a high-energy show at Vancouver's Commodore in promotion of their new full-length album Music for Men. CJSF reviewer Lise Oakley had this to say....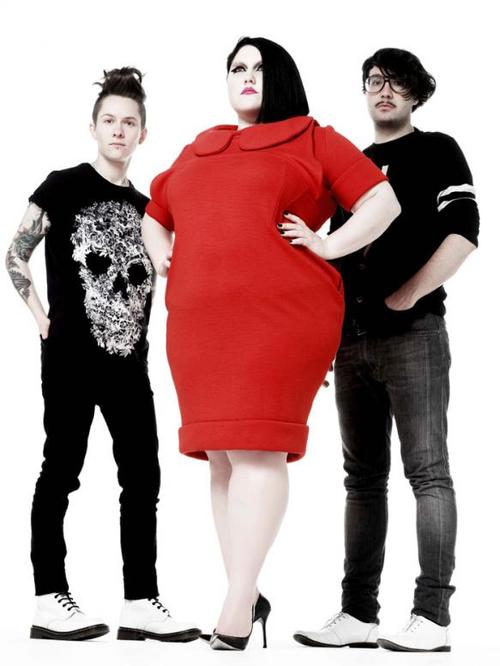 Opening the night act was Men, a 3-piece electronic/dance/political/sexual pop act led by JD Samson from Le Tigre. Getting the night started with a sweaty forehead was perfect for what was to come. I had impatiently anticipated the Gossip show since dancing my ass off to their Standing In The Way Of Control release in 2006 was getting old.
Now three years later, the show flashed before my eyes and it felt as if I was fifteen years old watching one of my favorite bands from the mosh pit. Perhaps, this was on the lighter side of a mosh pit though nothing short of high energy and movement.
Beth Ditto had her " queer church" audience wanting more and hitting the dance floor with new tunes from their recent release as well as oldies from 2006's Standing In The Way Of Control.
Despite Beth being a new superstar over in the UK she seemed humble and was definitely on her game. The often known "heavy set" woman had everyone wrapped around her finger and really created a community with more than a mention of queer union and acceptance. To be truthful it is about time a musician stood up and proudly out to a crowd. The best and most moving part of the evening was the post-encore when Beth remained walking around in the crowd.  She looked clandestine in a one-piece spandex outfit as she came down to sing Gossip's final song, and was boosted back up to have the crowd sing Queen's "We are the Champions" epic anthem. This show was definitely one that did not let me down, mostly due to the fact that I could relate to Beth and enjoyed seeing some political action within the realm of her music.
For more information on The Gossip current tour and music visit:www.myspace.com/gossipband or www.gossipyouth.com
Posted on:

12 April 2016

By:

Administrator

Author: Lise Oakley