CocoRosie
...and everyone was invited! Celebrating the naissance of their fourth album, Grey Oceans at the Vogue Theatre, Anna Grabowski was witness to their haunting distinctive style amid balloons and Carousels June 24th, 2010.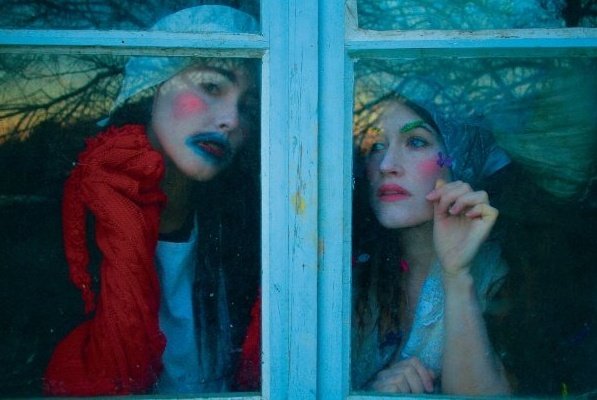 Diane Cluck opened the celebration with introspective "intuitive folk" music, engaging the audience with a voice similar to that of Sinead O'connor, and rocked the stage with melodic guitar and quaint, dark lyrics. The crowd remained seated, but attentive and engaged. This changed when she announced her last song, and people gathered at the stage to get a better look at the birthday balloons and projected images that commenced with a carousel and images of childhood nostalgia.  
The idiosyncratic sisters Bianca "Coco" and Sierra "Rosie" emerged as the carousel began spinning, clad in their signature quirky costumes. With only one costume change fans got to marvel at eclectic pieces that included one piece leotards, fairy like capes, electric blue wigs, Romanesque dangling mesh head pieces and folky dresses. 
Though aesthetically the ambiance was jovial and celebratory, the music was more evocative of a funeral eulogy.  The sisters weaved their distinctive styles of opera and spoken word vocals with the talents of their fellow guests. They were accompanied by a backing band that included an incredible beat boxer (Tez), pianist (Gael), and drummer (Bolsa).  This sexy co-ed crew altered the reviewers initial impression of the talented Cocorosie. The eclectic sound, described as "Freak Folk" also incorporated the use of xylophone, the harp, a variety of children's toys and other outlandish noise makers. Cocorosie enacted their childhood for us, not only with the costumes, toy instruments and images of carousels, but also with the patty cake to one of their latest songs "Hopscotch". 
Fans relished material from previous albums, such as the upbeat "Noah's Ark" and a personal favourite "K-hole". There was a coco-cover of Kevin Lyttle's "Turn Me On", which could have been better without the auto tune. The new album was well received by the dancing crowd, especially with their rich new tracks such as "Lemonade". Overall, the show at the Biltmore was a memorable one and CocoRosie has always produced a sound paying little regard to what others may make of it. After four albums the sisters remain true to their playful yet ambitious initial repute.
Posted on:

12 April 2016

By:

Administrator

Author: Anna Grabowski