Chad Vangaalen
CJSF volunteer Aryana Sye reviews the highly anticipated performance by Calgary's sweetheart Chad Vangaalen at the Rio Theatre on October 14th, this is what Aryana says....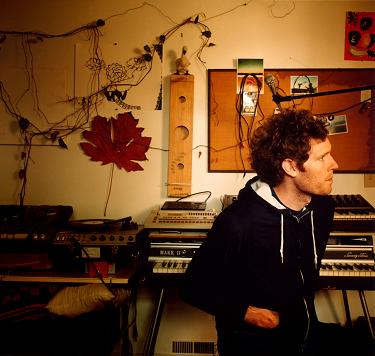 Chad Vangaalen played to a sold out crowd at the Rio Theatre on October 14th. Chad was in his usual form that night with his soft melodies and whimsical lyrics that calmed the rain drenched vancouverites attending the show. The Rio Theatre is an interesting space; to me it resembles a high school auditorium, its wide and long and entering it made me nostalgic for my high school days of school assemblies and Christmas concerts. I especially like how the liquor license the theatre has governs them to pour your drink of choice into a 20oz soft drink cup, and not only can you see your musician play you can eat your popcorn too.   However, though nostalgia governs a large potion of my life and the Rio has an old school charm, I felt at times that the Rio seemed to engulf Chad making his sound quite and somewhat insignificant.  
Having seen Chad last time he came to Vancouver at the late Richards on Richards (RIP) his show was unstoppable. The sound was incredible, the crowd was engaged and there was dancing, o' was there dancing.  This time around Chad seemed to lack the energy he conveyed last tour. I believe there were a certain number of variables at play that night that attributed to this, 1.) Vancouver was the last stop on Chad's tour, he inevitably seemed ready to not be touring but rather be in the comforts of his native land. 2.) The weather was absolutely atrocious that night, it honestly felt like Vancouver was under attack from the rain gods, I have not seen so much rain, pelting down so hard like that for a very long time. 3.) A combination of one and two with the fact that the Rio's sound was a bit lack luster. 
Having clearly pointed out my dislikes of the show, this is where I digress.  Seeing Chad live warms me from the inside out.  Since seeing him last year, I have memorized almost every song on Soft Airplane to near exhaustion.  I have spent countless hours listening to Chad's entire discography. I have geeked out and viewed and critiqued his music videos with fellow Vangaalen fans to almost music nerdom.  I definitely meet all the credentials for ultimate fan status, proving my loyalty to the music he has crafted.  I also appreciated how Chad offered up new songs from the companion to the EP Soft Airplane, B-sides Soft Airplane. These tracks delve into themes of birth, love, death, played over broken drum beat machines and acoustic stompers.
I would like to think of Chad's performance as a return to innocence, days of my youthful existence that have seemed to pass me by.  Chad's playful and youthful connection to this analogy was evident in the fashion attire worn on his tour. Chad and his back-up band where clandestinely dressed in casual and goofy clothes.  Striking in an long black wig, Chad was playful with the audience, telling jokes and breaking into his own rendition of Happy Birthday to a fellow friend who was on tour with him.  The playful and jovial atmosphere created was reminiscent of a show and tell performance, at a high school talent show. 
This chosen wardrobe by Vangaalen took on a completely different spin than the all dressed in black rock show last year. Though all in black has a roughness to it, the casual and playful attire won the hearts of the fans at the Rio that night.  Both shows were completely different from one another and captured the appreciation of both sets of fans. I have to say that besides the vast space and sound being lost at times during the performance, the Rio performance awakened my inner child, triggering memories of days long since past. Funny enough, at 11pm the Rio had to be cleared out for the debut of Where the Wild Things Are.  It can't get anymore nostalgic than this. 
Posted on:

12 April 2016

By:

Administrator

Author: Aryana Sye