The Bleating Hearts, The Unsupervised, Owl Drugs, and We Just St
Monday May 17th, reviewer Shazia R. got a healthy dose of local bands: The Bleating Hearts, The Unsupervised, Owl Drugs, and We Just Stole a Car at the Biltmore Cabaret. Read on to share her experiences.
If Samuel Taylor Coleridge introduced us to his hermit from The Rime of the Ancient Mariner, and forced him to tell us stories of his loves and life, happiness and loneliness, we would hear a harmonious melancholy that is the music of The Bleating Hearts.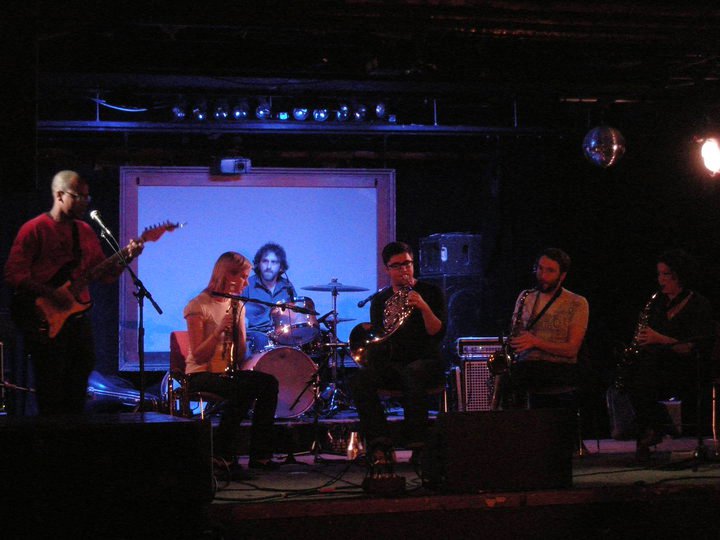 Soft distortion on guitar mixed with jazzy drumbeats and a gentle, melodious conversation between chocolaty vocals, trumpet, french horn and two saxophones creates elegantly crafted tunes that are sure to leave you swaying gently in a cradle of bittersweet feeling. The singing introduced on the song "Glasses are Gone" only added to the melancholy effect, showing off their astute ability to create a cohesive mood and well crafted songs. As such, it is no surprise that The Bleating Hearts reached CitR's Shindig semifinals and will see more success in the future.
The Unsupervised played after The Bleating Hearts, changing the pace and energy with their uptempo jazz songs. On first hearing, one immediately thinks of the music that accompanies cartoons of the '50s. On second listen, you realise that in no way can this be an accompaniment for a simple minded cartoon character that indulges in slapstick humour. The character would have to be a mad, muttering porcupine who pretends he is happy all the time. The constant plucking of the double bass and echoes among the trumpet and tenor saxophone leaves the listener with a sense of chaos, and imagines a character that is having an existential dilemma and is headed for decline, which is reflected in their use of decreasing arpeggios. Although the guitar was slightly drowned out during some songs, interludes of moderate distortion emphasised the sense of chaos and tension, which was made apparent by fast and varying drumbeats, and showcased the potential of this experimental jazz quintet.
Owl Drugs followed shortly after The Unsupervised and strayed away from jazz into the infectious realm of post punk characterised by thick, rhythmic basslines, crisp riffage, intense drumming and a charismatic front man. Yes, Owl Drugs is named after the pharmacy on Main and Hastings, and perfectly situates their music in the heart of a chaotic, urban sound, I might add. Almost all songs began with a soft build up leading to a heavy, frantic climax, which may lessen the unpredictability of this build up. However, contrasting soft and frenetic vocals that indulge in screamo moments, held ground by prominent basslines and softly crashing drums, only to be uplifted by clean, sharp riffs make Owl Drugs terribly inviting to inject into your earstream.
We Just Stole a Car revived experimental jazz at the Biltmore that night and pushed the audience further into a more chaotic and erratic set. That mad, muttering porcupine that resided in The Unsupervised's music turned volatile, schizophrenic, with bouts of unifying melody provided by the electric piano and fuzzy, muted guitar. Although enjoyable to listen to live, listeners may not find solace in the unpredictable songs, but in addition to the piano and guitar melodies, warm sax, rhythmic basslines and steady drums allows one to warm up to their music. Songs such as "Bear" that employs a creeping melody, and "Cat" that is smoother and more melodic, with strategically scratchy guitar sounds, allows the listener to appreciate the skill and music behind the improvised feel. We Just Stole a Car is not just discordant noise and bursts of melody, it's music that grows on you, so go ahead and hotwire your ears. 
~Shazia R
Posted on:

12 April 2016

By:

Administrator

Author: Shazia R