The Magic and Mushrooms of Boom Chicago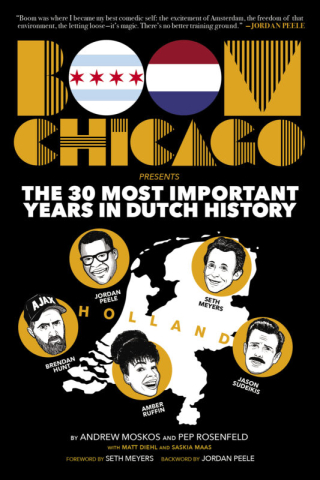 The Magic (and Mushrooms) of Boom Chicago
How two men with improv dreams created one of America's greatest improv institutions – In the Netherlands.
Review by Craig Allan
When I was in high school, I became enamoured with sketch comedy. Specifically, my favourite sketch show was MadTV, which ran on Fox from 1995-2009. During the later era of the show, comedians like Jordan Peele, Nicole Parker, and Ike Barinholtz all began to cut their teeth on the long-running program. However, this was not the first time these future comedic stars were interacting with each other, as they were all graduates of an upstart comedy troupe based in Amsterdam known as Boom Chicago. When I learned of their education, I must say I was perplexed. How could all these incredibly funny people come from a sketch group in the Netherlands? Boom Chicago Presents the 30 Most Important Years in Dutch History tells this story. 
Boom Chicago is a story about two Americans, Andrew Moskos, and Pep Rosenfeld, struggling to get on stage at legendary clubs like Second City and ComedySportz, and deciding to start their own improv group in Amsterdam. At their group, performers were able to get on stage nightly - trying, and failing to hone their craft. Being in Amsterdam, they were also given the experience of performing in front of non-American audiences, showing that "If Boom's talented actors can unlearn what they have learned and connect to new audiences-a Dutch audience, an international audience-then they will become stars on our stage." 
 Seth Meyers, Amber Ruffin, Jason Sudeikis, and many other comedy performers credit Boom for their success today -not only for being a great help to their success through their connections, but also because it gave them the confidence to perform in any circumstance. Whether it comes to learning lines fast or performing in front of tough audiences, Boom was the trial by fire that was necessary for these actors to learn. They learned this through constant performing, but also through doing various corporate gigs. Some were good, some were bad, and others were the most humiliating moments of their lives, but they all contributed to their growth as performers. 
As I read the book, one aspect of the book that I found was not working at times was the interweaving of Dutch culture. There is one chapter which just talks about what a Netherlands amusement park is like - nothing really about the people and the stage shows. There is also talk of taking magic mushrooms and hooking up with Dutch women which also didn't seem germane to the plot. However, as the book went on, I came to realize something: this book is not just about how a couple of guys got lucky and managed to start an improv troupe that just so happened to produce some of the biggest comedy stars today, though that is a large part of the book. This is a story about two guys wanting to bring American improv comedy to the Netherlands, but also wanting that country to accept them. This is an immigrant story. As the years went on, the book shows how popular, and notable, they were becoming in their adopted homeland. By the time the book gets to the 2010's, they are now the main tenants in one of Amsterdam's most historic theatres, and working as joke writers for the Netherlands prime minister. A crazy idea spawned from smoking weed in Amsterdam in the early 1990's turned into a over 30-year business, and love affair, with a country and its people.
The one part of the book I must say I didn't like was the ending. The book's title says that this is "The 30 Most Important Years in Dutch History" but that is not really true as the book ends in 2018 at the 25anniversary. I find it odd that they didn't continue past 2018, considering something like the COVID-19 pandemic  would likely have hurt their ability to do business. I also feel the book gets a little too self-congratulatory at the end, because the ending is all about how Sudeikis and other Boom alumni went on to create the show Ted Lasso. I get that it is a popular show that has won a lot of Emmys, but I have never seen it, so all the talk about character motivations and details about individual episodes were really over my head. I get that this is an important part of the overall book, but I feel this could have been cut down as it goes on for way too long.
Boom Chicago is a story of counterculture. It involved two guys who were trying to do improv, but having to fight for time in a system that felt too established and antiquated. Moving to Amsterdam, they were able to do the show they wanted: experiment with the format of improv by embracing projectors, the internet, and other revolutions to the format that the more established improv schools were unable, or unwilling, to incorporate. They never intended to make stars out of their performers, but it turns out that their desire to put their own flair on improv created a system and culture that fostered what these performers needed to find success. I always felt a little disappointed in myself that I never took chances to get outside of my bubble and do something truly remarkable. That's what all of these performers did, and it was the best time of their lives. I wonder if it is too late to start improv at 32 years old?
Boom Chicago Presents the 30 Most Important Years in Dutch History by Andrew Moskos and Pep Rosenfeld with Matt Diehl and Saskia Maas is available now from Akashic Books
Posted on:

21 September 2023

By:

cjsfpa