VIFF 2018 - Boy Erased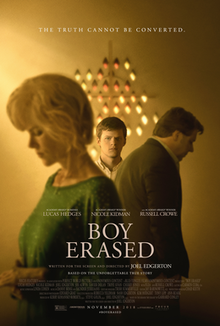 Making a movie about conversion therapy is not an easy task. Not to say that conversion therapy is a completely unrepresented theme in cinema: to name a few, there is the cult favorite But I'm A Cheerleader (1999), the Merchant-Ivory classic Maurice (1987), and the teen satirical comedy Saved! (2004). In popular media, conversion therapy has been the sporadic subject of a few documentaries and investigative reports over the decades; it recently resurfaced into cultural discourse due to American VP Mike Pence's under-acknowledged endorsement of the practice, alarming but ultimately unsurprising given his track record on LGBT rights. The task at hand for director Joel Edgerton is —as he
himself had said in so many words — not only to make a good movie, but a fundamentally socially responsible one.
Boy Erased is based on the autobiography of anti conversion therapy activist Garrard Conley, and follows the story of Jared Sykes (Lucas Hedges), who is pressured into enrolling in a conversion therapy program by his parents Victor (Russell Crowe) and Nancy (Nicole Kidman). Most of the plot focuses on Jared's time spent attending the program, where the lives of both participants and mentors (a studded cast including Troye Sivan, Xavier Dolan, Flea, and Edgerton himself) begin to unravel as the weeks unfold. Interludes are peppered throughout the otherwise linear narrative: in the form of flashbacks to Jared's life prior to his coming out with moments both tender and wistful, as well as ones that demonstrate the brutality and banality of institutionalized homophobic violence.
I have to admit that I initially held some skepticism over the ability of a straight white man to direct a drama about conversion therapy. I don't think my suspicion is completely unfounded; the prevailing lines of 'serious' queer cinematic representation often verge into the terrain of near-pornographic, torturous voyeurism. But I am happy to be proven wrong, for the most part. Boy Erased manages to balance the seriousness —both in terms of gravity and its relevance in our current sociopolitical climate— of the subject matter without resorting to exploitatively violent and sexualized depictions. Admittedly, there are two scenes —of sexual assault and physical abuse, respectively— that were particularly difficult to watch, but not to the degree where they were intentionally graphic or stylized in an attempt to contribute nothing but shock value to the film. Arguably, the most upsetting turn in the plot, one that elicited audible gasps from the audience, occurred off-screen and was instead recounted to the protagonist after the fact.
Edgerton is tasked not only with staying faithful to his autobiographical source, but had also stated his aim of generating a kind of cultural awakening. In a short Q&A following the film, he acknowledged that while there are many instances of conversion therapy that practice crueler forms of physical and psychological torture, he intentionally chose Conley's story to delve into a conversation about how people, with the best intentions, can
sometimes do irreparable damage to the ones they love. It is meant to be anti-polemical; nearly every character, from Jared's devoutly religious parents to the 'ex-gay' counselor and the camp attendees themselves, genuinely believed that they were doing the right thing. At a glance, this may seem wishy-washy, but the gravity of this narrative dawned on me the more it sat: it is a message to everyone, but especially to 'well-intentioned' straight people, that love simply is not enough. It must be followed by accountability, self-reflection, and progressive action. It also provides a way out. A bittersweet, difficult one, but one that nonetheless emphasizes a positive, redemptive potential.
There are moments in Boy Erased that feel jarringly light-hearted, a sudden intrusion of humor to cut through the tension. There are moments of melodrama, and an ending that borders on schmaltz. It will inevitably be compared with The Other Movie About Conversion Therapy Released This Year, The Miseducation of Cameron Post, directed by bisexual Iranian-American filmmaker Desiree Akhavan. I cannot attest to the latter, but I am sure many valid comparisons will be made on behalf of representation, commercial success, quality, and distribution. The only thing I have to contribute is that while I wish Cameron Post will achieve the same level of acclaim and success (given its glowing reception at Sundance, I am optimistic), I am glad that Boy Erased is getting wider distribution beyond the festival circuit: it's not only a movie that is enjoyable, but one that should be seen. Maybe sometimes we need a bit of schmaltz. Maybe sometimes it's good that the protagonist doesn't die in this one.
Posted on:

6 January 2019

By:

arts and entert...