ROCATERRANIA
CJSF volunteer Jay Peachy reviews Rocaterrania a film appearing at the 28th annual Vancouver Film Festival.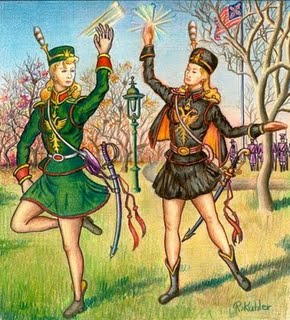 In this documentary, ROCATERRANIA is one man's fantasy world, originally created as a means for escape; it showcases the ability of the true Human Spirit to survive.  Over a 40 year period Renaldo Kuhler developed a body of artistic work that was inspired by the turmoil that surrounded him.  Because of the displeasure of his parents about his peculiar means of expression, he created his work largely underground because of the fear that he would be branded crazy and likely institutionalized and medicated.  Surrounded by the mental abuse by his parents and being ostracized by classmates because of his unconventional style, he took refuge in the safety of his creative work. He envisioned an independent state that had its geographical presence south of the St. Lawrence River and in northern New York State.  His world was a detailed analysis and expression of social, political and economic systems, which was so intricate that he showcased political strife and upheaval, created a language, illustrated individual characters and the complex interpersonal relationships around them. Disenfranchised with the current form of democracy he wanted to create a system of equality, something that seemed to be lacking in his own personal life.  The microcosm of his life on a ranch with his parents in rural Colorado manifested into this unbelievable collection of creative genius.
In retrospect, some of the schools of thought that were expressed in his work could be thought of as extreme, alternative or even outlandish at the time.  However, in contemporary terms they deal with some of the issues that are common thought today, including modern day environmentalism, where he illustrates an example of a municipal self sustaining sewage treatment and composting system. He envisioned a modest self-sustaining society before its time.
As a self-described non-conformist, he created his own unique style of clothing that was an expression of his fantasy, which he proudly wears in public. In one scene, his seamstress seems unflappable by his fashion sense. He interacts with her like a 12 year old buying Hannah Montana clothing, as he is getting fitted with his new duds.
This film is one mans complex journey into his mind. He states "the ability to fantasize is to survive" and "each is a nation to oneself".  No matter what we perceive of one another, if we could accept individuality, equality and humanness in others, it may seem less of a fantasy to the rest of us.
Posted on:

11 March 2016

By:

Administrator

Author: Jay Peachy