Listen to the 2018 Student Radio Marathon: airing Feb. 28, 2018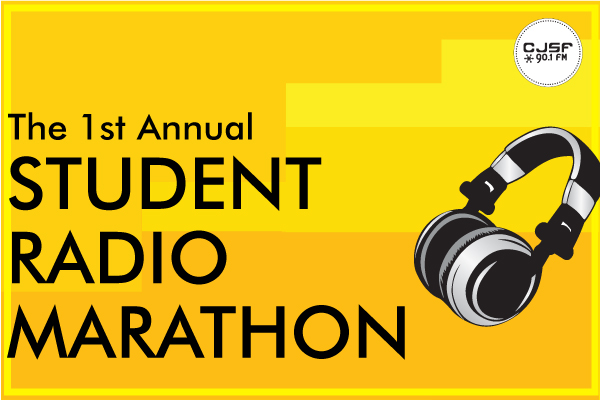 The first annual Student Radio Marathon is upon us! Tune in February 28 from 10am to 8pm for a full day of diverse, student-led programming on CJSF 90.1 FM, including news on student clubs and events and eclectic music mixes.
Get connected with what's up at SFU: listen to the Student Radio Marathon over the air and online or drop by the station at TC-216 in the Rotunda on Burnaby campus.
2018 STUDENT RADIO MARATHON SCHEDULE
10-11am - Campus spotlight: Upcoming Events at FASS (Faculty of Arts and Social Sciences), SASS (Society of Arts and Social Sciences) and FAS (Faculty of Applied Science) (Talk) 
11am-12pm - Democracy Now (as per usual; Talk)
12-1pm - DJ Noelle Chan (Music)
1-2pm - OPEN SLOT
2-3pm - OPEN SLOT
3-4pm - Campus spotlight: Matt and Maddie from the First Nations Student Association (FNSA) (Talk)
4-5pm - OPEN SLOT
5-6pm - Campus spotlight: SFU eSports Association (Talk)
6-7pm - DJ Switch (Music)
7-8pm - Campus spotlight: Black History Month with Giovanni HoSang from SFU Students of Caribbean and African Ancestry (SFU SOCA) (Talk)
Interested in filling an open slot today? Ask our Programming Coordinator Robin Eriksson about it while you're at the CJSF studios! 
Want to do more stuff with us after the Marathon? Visit our volunteer info page (link) to find out how you can get involved with CJSF as a new volunteer.
Date:
Thursday, February 22, 2018 - 16:45
Posted on:

22 February 2018

By:

cjsfpr