Join CJSF Online in the Fall 2020 Semester!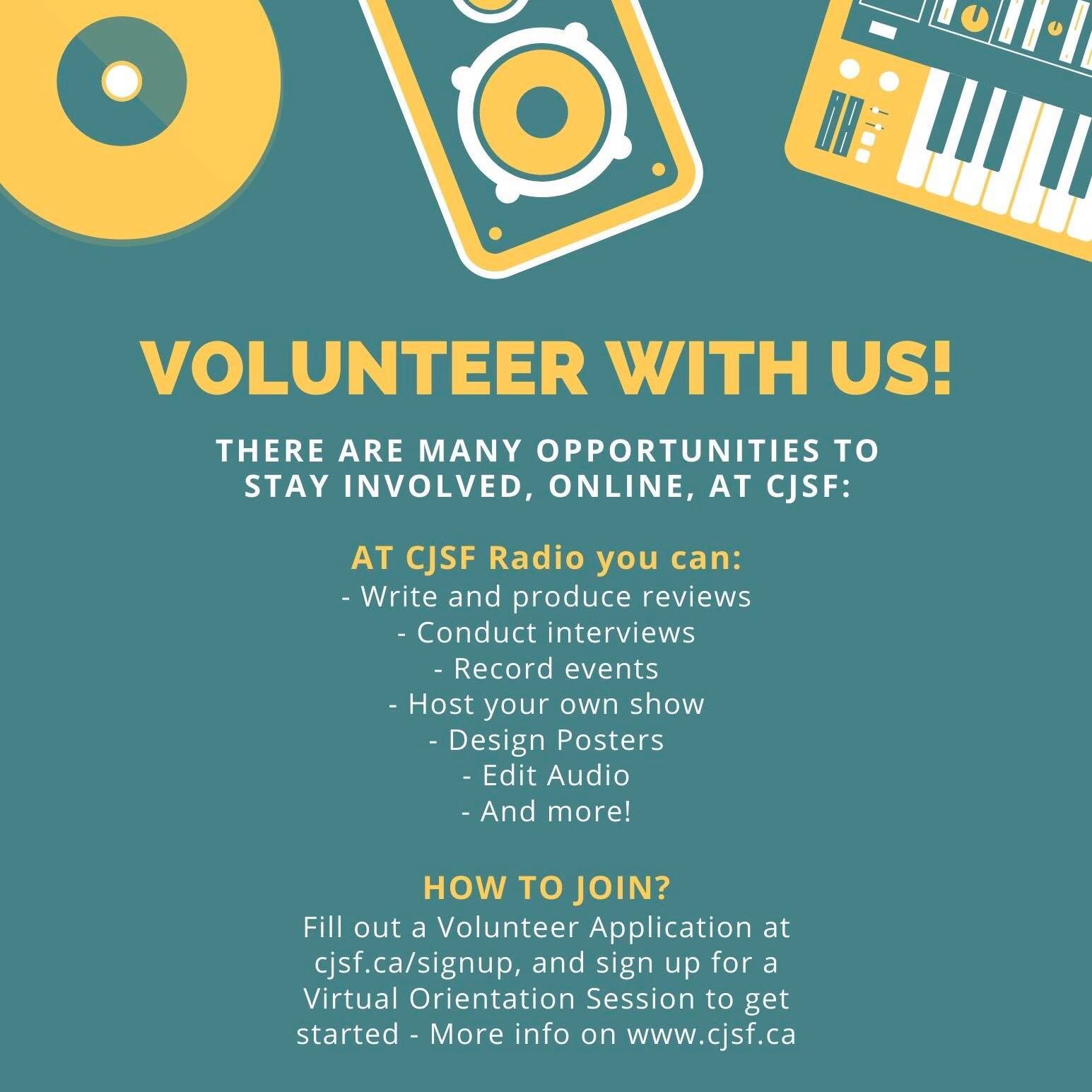 We're entering another virtual semester at SFU this month, kicking off what may well be a whole virtual school year - but you can still volunteer with us (virtually, of course!)
From writing album reviews to producing video and audio, there are many ways to stay involved, online, with CJSF: learn about them by talking to us directly during this Month of Welcome. From Sept. 8-10, we will be coming to you live and direct via SFU's Student Services' Virtual Services Fair - simply join us on on Hopin at these times:
Please note: all SFU students have been pre-registered for this event, so check your SFU email for your pre-registration link before logging into Hopin via the link above.
Tuesday, Sept. 8: 3:00pm - 5:00pm
Wednesday, Sept. 9:  9:00am – 11:00am
Thursday, Sept. 10: 3:00pm - 5:00pm
UPDATE (9/13/2020): Miss us at the Virtual Services Fair? Come see us at Virtual Clubs Days, hosted by the SFSS - it will take place from 11am to 3pm on the following days:
Tuesday, Sept. 15
Wednesday, Sept. 16
Thursday, Sept. 17
UPDATE (9/20/2020): Come to the All-Student Society Orientation, organized by SFPIRG, on Sept. 30 from 3:30-5:30pm. Learn more about SFU's independent student societies, including CJSF - visit the All-Student Society Orientation Session Facebook event page to find out how to attend and participate! Zoom link by RSVP.
For more information on becoming a volunteer at CJSF, see the cover image on this post or contact Noelle, our Volunteer Coordinator, directly at vol4cjsf@sfu.ca.
Date:
Sunday, September 6, 2020 - 09:45
Posted on:

6 September 2020

By:

cjsfpr