"Bring Your Own Donation!" CJSF's 2021 Fundrive Website Now Live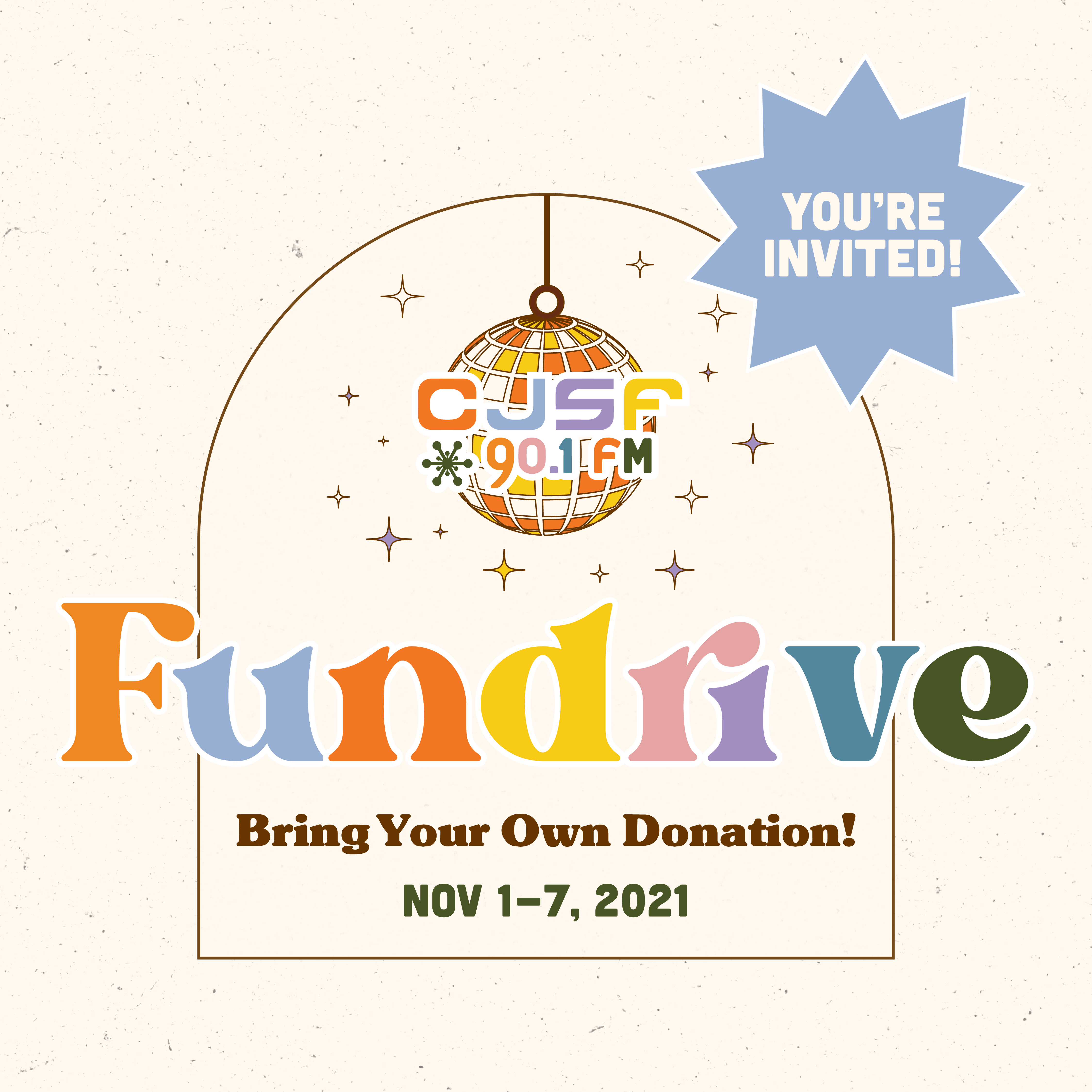 Pledge Online!
cjsf.ca/donate
Learn more about Fundrive!
fundrive.cjsf.ca
---
From November 1 to 7, from wherever you might be, celebrate the opening of our new space in the SUB at SFU Burnaby during our official housewarming "party": the fourth annual CJSF Fundrive!
Our Fundrive website is now live, so be sure to #BringYourOwnDonation as we work toward our #CJSFFundrive2021 goal of $12,000: your financial support during Fundrive (and throughout the year) allows us to remain a vibrant, independent and grassroots voice in our community, and warm our home both on campus and in the surrounding community.
How to Donate to Fundrive
You can take part in this year's #CJSFFundrive by donating online at cjsf.ca/donate (the "Donate/Pledge" link in the menu) or by sending a cheque made out to CJSF Radio (please do not send cash) to:
CJSF Radio Fundrive
SUB 1420 Simon Fraser University
Burnaby, BC V5A 1S6  
You can also call the Fundrive Hotline at 778-782-2573 during our Fundrive Office Hours (11am to 1pm) each day during Fundrive Week.
Outside of our Fundrive Office Hours, please leave a message anytime with your name, your number and your donation amount, and a CJSF Staff member will call back to finalize your donation. Please note that the hotline will not be staffed outside of the stated Fundrive Office hours.
Otherwise, you can speak personally with a program host to pledge your donation ahead of time - we will follow up with you about your pledge.
As always, thank you for your support as a CJSF listener, contributor and community member!
Fundrive Pledge Levels
Donating to CJSF is easy. The following information might help you decide which pledge level is best for you, but you can make a donation in any amount over $35. Put in as much as you like: select "Other" as the donation amount on the CJSF Fundrive 2021 donation form and specify your desired amount.
Any donation of $120 or more can be paid over ten months on our installment plan. Become a monthly sustainer! If you are donating by mail, please include a separate Post-dated cheque for each payment.
| | | |
| --- | --- | --- |
| Donation Amount | Monthly Payment (over 10 mos.) |   |
| $35 |   | Every housewarming gift counts! For the price of a bottle of wine or two, help us reach our Fundrive goal this year. |
| $70 |   | Donations at this level add up and help us reach our goal even faster. |
| $90.1 |   | Pledge your love by matching our frequency! |
| $120 | $12 | Our installment plan starts at this level, at only $12 per month over 10 months. |
| $160 | $16 | Make this a buddy pledge! Donate with a friend at $80 each. |
| $280 | $28 | For the price of a really fancy new tableware set, show that you really, really care about CJSF :) |
| $500 | $50 | A donation at this level will cover the cost of running CJSF for a single day. |
More Info
Stay tuned for more Fundrive updates: watch this space or follow us @cjsf on Twitter and @cjsfradio on Facebook and Instagram - and visit our Fundrive website at fundrive.cjsf.ca for more about the 2021 CJSF Fundrive!
This year's Fundrive artwork is by Sheri Turner (@shezzytea on IG): check out shezza.ca to see more of her illustration and design work!
Date:
Friday, October 29, 2021 - 20:15
Posted on:

29 October 2021

By:

cjsfpr