Speak Up! playlist for 06/22/2017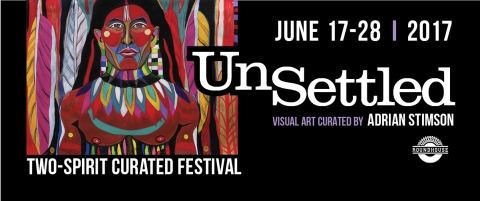 Interviews with Adrian Stimson and Vanessa Dion Fletcher of the Queer Arts Festival's Unsettled exhibition.
Part 2 of a series on Speak Up! examning critical and indigenous perspectives on Canada's 150th anniversary of Confederation
"For too long, the absence of representations of Two-Spirit people, art, and being from contemporary popular culture has been equally embedded in hegemonic practices of colonization. With UnSettled, I explore the art and being of Two-Spirit artists, and in turn, they expose the issues of historical extermination of Two-Spirit people, the lack of alternative aboriginal sexuality and gender in contemporary Western culture/media, the Two-Spirit movement and future as a part of the reclamation of Two-Spirit identity and practice."
— Adrian Stimson
Queer Arts Festival 2017: UnSettled is curated by Two-Spirit and queer-identified Indigenous artists, and developed in collaboration with Indigenous arts organizations. The term "Two-Spirit" is used by many Indigenous people to describe their gender, sexual and spiritual identity—often inclusive of all Indigenous LGBTQ+—in reclaiming and restoring traditional concepts suppressed by colonial heteronormativity.
UnSettled presents work from a Two-Spirit perspective, exploring contemporary roles and experiences, as well providing a platform for innovation and experimentation at the intersection between the Indigenous and queer art milieux. UnSettled deploys artistic and critical discourse to focus on Two-Spirit resilience with work addressing power, representation, sexuality, language, body, tradition, memory, colonial narratives, and knowledge sharing. Highlights include performances by Cris Derksen with the Chippewa Travellers and the Allegra Chamber Orchestra, Kinnie Starr with DJ O Show and Tiffany Moses, contemporary dance with Circadia Indigena, lemonTree creations' dance theatre work MSM [men seeking men], and of course QAF's signature visual art show curated this year by Adrian Stimson.
UnSettled takes place June 17-29, at the Roundhouse Community Arts & Recreation Centre | 181 Roundhouse Mews | Davie @ Pacific | Vancouver BC
Adrian Stimson is a member of the Siksika (Blackfoot) Nation in southern Alberta. He is an interdisciplinary artist, curator and educator with a BFA with distinction from the Alberta College of Art & Design and MFA from the University of Saskatchewan. As an interdisciplinary artist, Adrian's work includes paintings, installations, collodion wet plate photography, sculpture and performance.
Vanessa Dion Fletcher employs porcupine quills, Wampum belts, and menstrual blood to reveal the complexities of what defines a body physically and culturally. She links these ideas to personal experiences with language, fluency, and understanding. All of these themes are brought together in the context of her Potawatomi and Lenape ancestry, and her learning disability caused by a lack of short-term memory. Her work is held in the Indigenous Art Center Collection in Gatineau, Quebec. In 2016, Dion Fletcher graduated from The School of The Art Institute of Chicago with an M.F.A in performance. She is the recipient of the Canada Council for the Arts International Residency in Santa Fe, New Mexico U.S.A. 
Highlighted/Featured Program:
Posted on:

21 June 2017

By:

cjsfpa