The Children Have to Hear Another Story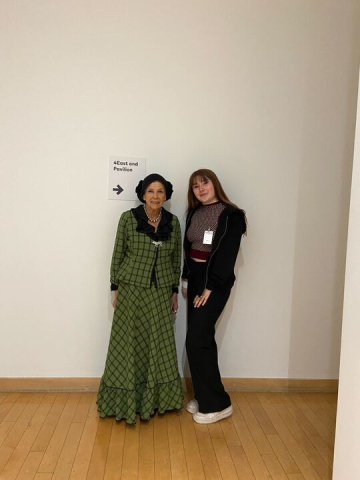 She fills up the room completly just with her presence, it is almost magical : Alanis Obomsawin.
I was really impressed when I saw her for the first time. Alanis Obomsawin- documenter, singer, artist and storyteller.
A lot of questions were buzzing in my head, but I came out with more than just answers- After interviewing Alanis personally and visiting the exhibition, I had a whole new perspective on life.
.
Thanks to Alanis. Her exhibition "The Children Have to hear Another Story" throws you back in the 60s and takes you on a time travel through the decades till the early 2000s.
From documentaries to selfmade art, tradional masks, clothing to interviews, everything of Alanis's work is covered.
 You get an insight in her work, how she sees the world and what great things she achieved over the past decades.
A world you jump in and that offers you a whole new perspective on reality and especially today's society.
She discovered many things that went under the radar for too long. Starting with educating the great public about indigenous arts, culture, music and dance, she made the poeple understand the indigenous culture and that lead to a better acceptance.
The fight for equality: A long and hard battle with many victims. But Alanis made the impossible possible: She won that battle and reached her goals by bringing all the sheltered secrets to the surface
. "We now live in a society where the indigenous culture is accepted and appreciated. That is all I ever wanted" (Alanis in an interview with Vivienne)
But my biggest question was, what other story have the children to hear? And I found an answer. Alanis tells these stories with it the children will never forget them and pass them to the next generation.
Those stories are important, because they keep the history alive.
We need to keep the past alive to live in the present and to learn for the future.
I came to a conclusion: Alanis goal was always to connect the people with each other, so that they will understand each other better and that leads to a society where everybody can be who they want to be, where everybody is accepted and where everybody is loved.
Tell your story!
Posted on:

20 April 2023

By:

Vivienne