Moon Over Buffalo at Metro Theatre
"Moon over Buffalo", on now at the Metro Theatre is a classic comedy about a day in the life of a family of eccentric stage actors, who finally have a chance at big screen stardom. The play lovingly pays tribute to everything that goes on behind the scenes of the theatre, but not without making excellent use of classic comedic elements such as mistaken identities, love triangles, drunken buffoonery and slap stick pratfalls. There were several noteworthy performances from lead actors David Wallace as George Hay, Michelle Collier as Charlotte Hay, and Devon Busswood as Rosalind.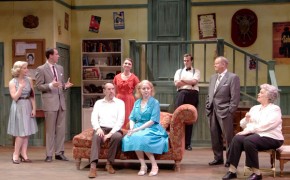 The play opens on a humorously lackluster rehearsal of the Hay family's theatre company, who are slated to perform a matinee later that day. George and Charlotte's daughter Rosalind comes home for a visit to introduce the family to her new fiancé, Howard- a bumbling TV weatherman, played by Cory Haas. But she must avoid her ex-boyfriend Paul, who is still an actor in the Hay's troupe, and carries a torch for Rosalind in hopes that she will come back home and return to her own acting career as well as be his leading lady. Meanwhile another relationship is on the rocks, as we quickly find out George has betrayed Charlotte. But before she actually leaves him for good, an opportunity to audition for a movie lands in their laps and the whole family must come together for the matinee performance in order to impress a big Hollywood producer. Of course, this won't prove so easy, as George suddenly vanishes and they scramble about trying to find him, and to figure out who is going onstage and what play they should be preparing for. Chaos ensues and of course you will find yourself laughing at the expense of the characters being desperately clueless until the last minute.
"Moon over Buffalo", now in its third week, is at the metro theatre until the end of November, and highly recommended to anyone who has lived the life of an actor, or is a fan of classic Hollywood films. You'll be sure to leave feeling nostalgic for the golden age of stage and screen. 
Posted on:

18 March 2016

By:

Administrator

Author: Maria Huoar