Hereos - FOG Theatre
It is always when young aspiring thespians start their own theatre company. It can be doubly challenging when the actors are in their senior years. Brand-new acting company FOG Theatre Society pulls it off effortlessly with their rendition of Tom Stoppard's "Heroes" – running at the PAL Studio Theatre until September 30. Directed by Terence Kelly and starring William Samples, John Innes and Michael Dobbin – all long-time veterans of the Vancouver & Canadian theatre scene – Heroes is a play for the ages (and aged).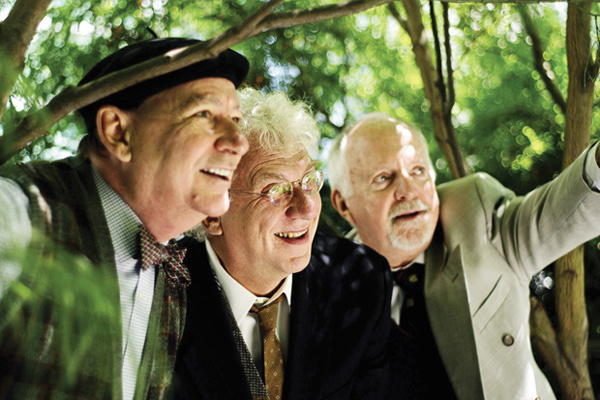 A cross between "The Great Escape" and "Grumpy Old Men", "Heroes" is an adaptation of the French Play "Le Vent Des Peupliers" by Gerald Sibleyras. The adaptation is classic Stoppard; witty dialogue, tragic, comic, and the three men act it to perfection.
As Terence explains, the theatre company came about on an idea from Dobbin. Lamenting the fact there are not a lot of roles for senior actors, Dobbin approached long-time friend and fellow actor Kelly, who then went after Innes and Samples. After seeing a rendition of the play in Toronto, the four of them felt this was the ideal inagural play. FOG, which I'm told stands for Four Old Gentlemen (although Kelly claims he is "Fond of Gin"), is the ultimate collaboration. The PAL Studio Theatre (which is also the living quarters of Dobbin, Samples and Innes), is a 150-seat theatre and the perfect venue for this intimate play.
Kelly, who is an actor by trade, explains why he decided to direct this particular piece. It just came down to roles, he said. He believed that Dobbin, Samples, and Innes were the best suited to play the roles. And he was right. Innes is superb as the grumpy Gustave who has somewhat of a begrudging friendship with the bumbling Henri (Dobbin). Playing mediator, is the slightly senile and narcoleptic Phillipe (a hilarious Samples). Kelly jokes, that once the play opened he was relegated to the role of bartender. He didn't seem to mind.
Kelly says that he hopes to act in future productions, while going on to say that he hopes FOG can start a mentorship program for young actors, writers and directors (sign me up!). Set designer and stage manager Glenn Anderson should also not go unmentioned. The architecture and set piece is a nice complement to the intimacy the actors portray.
Heroes runs at the PAL Studio Theatre until September 30th.
Posted on:

18 March 2016

By:

Administrator

Author: Dan Mcpeake