Extraction
On Tuesday, March 5, The Cultch hosted the premier of Conspiracy Theatre's Extraction, a theatre documentary surrounding oil mining in Alberta and the economic relationship between Canada and China. While the concept of a "theatre documentary" is peculiar and enticing, Extraction defines the genre and is now the standard to which similar performances should be held.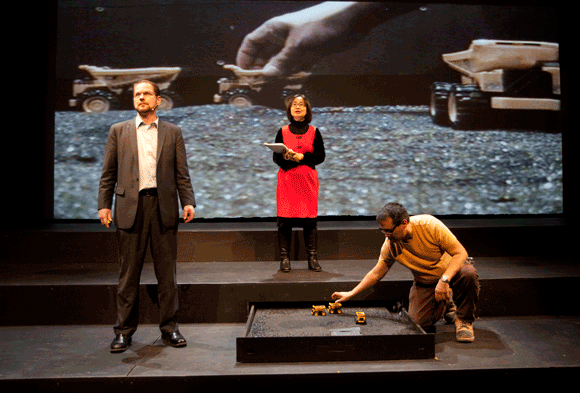 Unfortunately, that bar is now set rather high.
Extraction is thickly expository, hinging on the narratives laid out by Sunny Sun, Jimmy Mitchell, and Jason Wilson. While these narratives are seemingly disconnected, presented in both a spoken and textual English, translated from mandarin, they all dwell on the impact of the oil industry on the livelihood of the individual. Each story is moving and powerful upon reflection, but is also soaked with a rich, thorough humour that transcends the weight of the content.
While the narrative layers are blatant, there are performative elements that make Extraction to be a unique theatre experience. Breaking up the stories with playful segments involving toy trucks and cameras, photo collages, or in the case of this particular performance, an unscripted fire alarm that resulted in the complete evacuation of the theatre, kept the audience frequently engaged, entertained, and challenged by the presentation.
However, probably the most intriguing element of the performance was its level of interactivity with the audience. In between segments, on occasion, there would be an audience vote on a question regarding the content. After the votes were texted to a pair of cell phones held by the performers, the results were tallied and presented to the mass, sometimes yielding surprising results.
Extraction proves itself a success of the genre as well as a representation of 21st Century narration. Through its adaptation of our modes of communication, Extraction manages to mine our sympathies and frustrations towards Energy Economics in the most thoughtful and provoking way possible.   
Photo by Tom Matheson via Conspiracy.ca
Posted on:

18 March 2016

By:

Administrator

Author: Jamie Cessford