DIE ROTEN PUNKTE at the Cultch
I suspect that Astrid and Otto Rot are from another planet. No one is as wickedly funny as uber-talented musicians (and not just any planet; Kepler-22b to be specific.) The newly discovered planet happened to be the subject of their opening number. With Astrid looking like a 24th century Elizabeth 1 and Otto resembling a futuristic hippie, the near sold-out Cultch was quickly turning into a groove fest.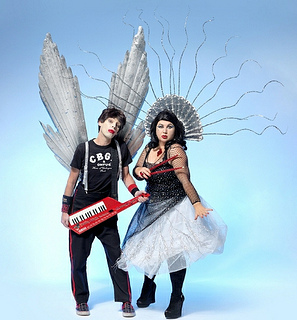 Astrid and Otto are siblings from Berlin who make up Die Roten Punkte. Some will claim that Die Roten Punkte, or The Red Dots, are really Australians Clare Bartholomew and Daniel Tobias, but these people are just huffing too many bratwurst fumes. The siblings are currently on tour promoting their album Eurosmash, which drops in January, 2013.
The new album has caused a stir among their followers, who accuse them of selling out. Otto claims that because their last album Kunst Rock (Art Rock) was art-rock, that is what fans expect to hear. What they get instead is a sound more along the lines of the Ramones and The White Stripes.
Astrid believes that this is due to the fact that she took full creative control of the album, after Otto snuck some songs onto Kunst Rock (namely "Automatic Doors", a song with sounds a various automatic doors). Otto disputes this and claims they were great songs.
Fairly or unfairly, Astrid and Otto have long been compared to Spinal Tap. "They're like a joke band" says Otto. "We are a real band". Astrid adds that this is most likely because their manager, David Eppstein keeps booking them at comedy festivals, rather than finding them true rock concerts. "He's not a very good manager" she laments.
As with any brother-sister relationship, there is always some sibling rivalry and disagreement. A constant point of bickering is the manner in which their parents. While they both concur it happened on a safari during Astrid's 12th birthday, Astrid knows they got run over by a train, while her younger brother is adamant that they were eaten by a lion (which is part of the inspiration for the song "Ich Bin Nicht Ein Roboter (I Am a Lion).
That is just one of the many stories they tell with their music – their latest is a mini rock opera about how they became a band – including their love for David Bowie (he inspired them to become a rock duo) and the invented-in-Vancouver Banana Guard (the inspiration for Otto's Bananenhaus (Banana House).
Their interests expand beyond the musical realm: Otto has currently latched onto the no-fat, raw food vegan way of life – a choice which spawned the protest song "The Choices We Make", - which Astrid despises.
All in all, Die Roten Punkte's Eurosmash is an epic concert of Futuristic rock-bang proportions. Fuelled by their witty, bickering-filled banter, Astrid's off-kilter drum beats, and Otto's guitar shredding, Eurosmash is one for the ages.
Posted on:

18 March 2016

By:

Administrator

Author: Dan Mcpeake