Chelsea Hotel
In the production of Chelsea Hotel: the Songs of Leonard Cohen—that ran from March 18-29, 2014 at Vancouver's Firehall Arts Centre—director Tracey Power and her cast of six met with great success (and awe), as was apparent by their twelve day run, and specifically, by the performance of March 18th and the talkback session that followed.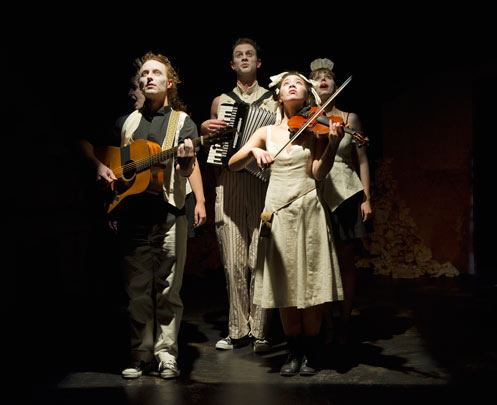 The play which was conceived and directed by Vancouver based actress/playwright Tracey Power—with music direction by Steve Charles—tells the story of the tormented Writer who checks into New York's infamous Chelsea Hotel in hopes that he will be inspired to write his next song "to cure love's pain" (Firehall). Through song, story and dance, and through the Writer's interactions between the other characters (in his imagination) we are taken on an illusionary journey through the Writer's psyche. It is a delightful journey that helps us to better understand this Writer, and his torment, and perhaps the creative process.
In preparation for writing the script—which is only comprised of the words of Cohen—Power who had already been a Cohen fan, "read all of [Cohen's] books and a lot of his poetry to come up with how to tell the story using entirely his own words and none of [her] own." By taking this approach, while the audience may know that Cohen isn't the one telling the tale, it is as though he is. Hence, as the audience is magically lured into the world of the Writer's psyche, we are also given a taste of what it might have been like to be in Cohen's world, or at least, in one of his love songs.
The cast of six were an absolute delight to watch. Their capacity for drama, flair, and profound moments were inspiring to watch—frequently bringing chills up my spine. Rachel Aberle's character was powerful in her role as a determined cabaret girl flicking first her cigar and later her hands announcing it's closing time; Lauren Bowler's Suzanne was emotionally touching and inspiring as well as gentle and childlike as she sculpted the air with her paper boat while Steve Charles' musical presence was strong as was his personification of Death which was nicely animated. Furthermore, Benjamin Elliott's whimsical manner was charming as was illustrated by his many asides and his magical gesture of flicking the light. Marlene Ginader's haunting violin solos were exquisite and moving. Finally, Kayvon Kelly's monologues of torment and loss were beautifully woven, with powerful effect in his final pieces of Bird on a Wire, and his closing notes of David singing Hallelujah and the proclamation that "maybe there's a God above but all I've ever learned from love was how to shoot at someone who outdrew you…"
On a final note, as the characters from the Writer's imagination exit stage left, leaving the Writer behind—harmonizing the words Hallelujah—the audience is left in a state of awe with a sense that forgiveness is at hand. And one thing we know for sure, it's closing time.
For more information about Tracey Power, her upcoming productions, and her current writing projects, go to www.traceypower.ca
Posted on:

18 March 2016

By:

Administrator

Author: Elaine Harder