White Lies at the Rickshaw Theatre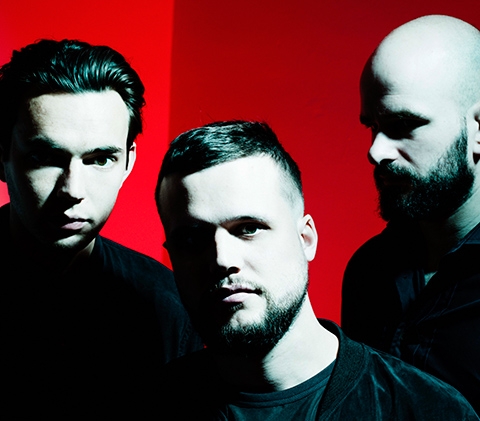 My introduction to White Lies came from watching the 2014 indie film, A Girl Walks Home Alone at Night, where, in one of my personal favorite scenes, the two main characters come to a prolonged—but artfully poignant—slow embrace to the sound of "Death" playing on vinyl. The music works perfectly in this key moment of the film, and plays into its themes as though it were written for that very purpose. It is a transfixing bit of cinematography, and truly beautiful. Afterwards, I promptly consulted the Internet for further musical exploration, and was pleased with what I found. Seriously though, if you haven't yet seen A Girl Walks Home Alone at Night, you owe it to yourself to check it out on a good TV with a solid sound system. Take my word on this. 
Another thing you can take my word on is the sense of raucous enjoyment in the air at a White Lies show. I wasn't really sure what sort of crowd to expect for a group that has been compared to the likes of Joy Division, Interpol, and The Killers, but folks were very enthusiastic about this band, and it's easy to see why. The post-punk outfit out of Ealing, London are a naturally likable group of fellows on stage, playing their songs with an earnest air of professionalism and unpretentious charm—I mean who doesn't appreciate rock bands who take a bow together after a performance? Each of their songs had an extra dose of buzz compared to their studio-recorded counterparts, but without any sort of drop in quality, which made for a nicely energetic concert—a degree of improvement over their studio albums. I thought that the band could have made more use of McVeigh's guitar—I thought it was underutilized—as it added a noticeably nice touch when it was played, but otherwise, this band is a very well-oiled unit, and sounded consistently on point for the duration of the show.
Frontman Harry McVeigh sounds genuinely concerned with feelings of emotional suppression and making logically sound decisions in the face of his confusion. He doesn't want to feel at all, but he wants to know what fuels this lack of feeling. He wails in a pitch that strikes every inch of the room searching for any sort of answer. It's hard not to shout out something reassuring to him as he tells us that he overthinks all of his thinking and that he doesn't think his love will be enough. His voice hits you in a way few songwriters manage to connect with their listeners—the comparisons to The Killers are apt, but there is something special about the way McVeigh expresses his words that I don't think, for my money, Brandon Flowers ever could.
Posted on:

20 March 2017

By:

arts and entert...