Vancouver New Music Festival "Copyright/Copyleft"
CJSF volunteer Atakan Gunal attended this year's Vancouver New Music Festival (October 21-24th) which was concentrated on Sonic Collagism and The Art of Sampled and Repurposed Sounds + Images, and this is what he said.....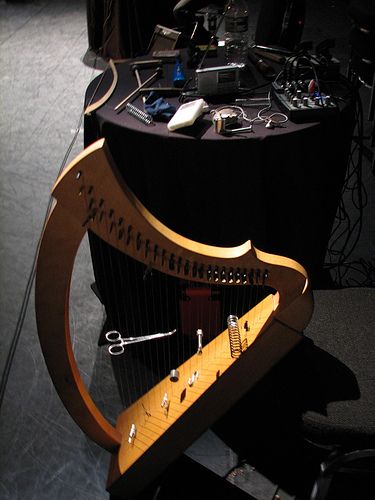 In an age where creative activity has long been and increasingly is confined to being exercised to mainly "favor the interests of commercial intermediaries (publishers, broadcasters, media companies)", one would think it would be harder and harder to find, have access to, be exposed to or practice art freely. However, as Jean Hébert of Simon Fraser University discusses in his article "Copyright, left, right, left: Being in Step with Economics and Technology", which was printed and freely distributed at the Vancouver New Music (VNM) Festival 2009, technology of our day provides, if not necessitates alternative ways for artistic expression.
"Copyright/Copyleft: A Festival of Sonic Collagism and the Art of Sampled and Repurposed Sounds + Images" was the title of this year's VNM Festival, which happened on October 21 through 24. It was a strong and activist statement against the "Copyright regime" and four nights filled with art. I was able to attend three nights of the festival (October 21, 23, 24) and I am glad that I was since apparently, with the current Arts and Culture policies in BC, it would be harder to have such events happening in the future – this was another issue that the festival called people to action on.
Throughout the festival, there were hour-long free artist chat sessions before the shows and there was also "a free panel discussion about copyright, intellectual property rights and art" with the title Negative Landscapes (probably inspired by one of the participants of the festival, Negativland) on 24th, which unfortunately I could not attend. The topics of these chats revolved around the copyright issues as per the theme of the festival and also artists shared their philosophies, approaches and techniques, which were highly influential. The panel, from what I can tell by the chats, the shows and the atmosphere of the last night, delved deep into the issues stated in its title and provided a much needed platform for such issues to be formally addressed.
The first night and thus the festival started with an installation by Andrew O'Connor. The installation is made up of four old reel-to-reel tape recorders and large analog tape loops being played on them. O'Connor listens to random pieces of analog recordings through another machine on his headphones and he cuts a piece of tape to be looped. Then with the help of Doug Horne they set up a loop of that tape on one of the four machines. They keep doing this for different machines and the randomness involved with deciding on the selection to be cut, the timing of their setting up the loop, last minute adjustments to the loop size if the microphone stands supporting the tapes are not tall enough all add up to create a very interesting, complex sounding structure. Besides, watching such a process live is fascinating in itself. If you are familiar with working with analog tapes, you appreciate the process and everything being done live. If you are young enough to be born into and have grown up with the digital age, the whole thing is very retro, which you may or may not find to be really cool. This show is a continuation or a tribute to "one of Canada's longest running audio art programs" on the radio called Frequent Mutilations. The installation was also presented throughout the festival between the shows and although things did not go as O'Connor expected during the show on the first night, he then told me that it was excellent on the following nights.
The following performance was of Jackson 2bears from Victoria. He very quickly took the audience away from the analog realm and brought in the beats, loops and the high energy of the digital. He contrasted the spirituality of Native people with today's modern society and way of life through his use of movie fragments, audio and video remixes of hip-hop and rap clips, turntable scratches and the sounds and sound effects he created.
The last set of the day was by John Oswald, a great musician (and dancer) and a pioneer of plunderphonics. He started his set with the prerecorded (canned as he put it) version of "his infamous remix of Michael Jackson's Bad" called Dab, along with a slowly evolving image of Michael Jackson, from his youth to his last days. The image was reminiscent of the technique he used to create the audio piece. He then continued with his duo performances with a performer playing a well-known piece on different instruments and him improvising with his saxophone – another way of repurposing or appropriation. In between the duo performances there was also a performance of some of his pieces for a larger orchestra, conducted by Giorgio Magnanensi.
The third night of the festival started with a performance by Sonarchy from BC. "By layering pre-recorded material from external sources, Sonarchy is challenging the very notion of copyright. Theoretically, Sonarchy performances are rooted in the Surrealist concept and critical analysis of "miserabilism" (defined as the idea that misery is the only possible reality) and a Dadaist sense of the absurd. The juxtaposition of vernacular recordings intended for a mass audience with lesser known experimental and ethnographic volumes spanning the early-mid 20th century to present allow the trio to create a dreamlike audio landscape, or sonic alchemy. Sonarchy's performances are done in a purely live context with no pre-mixing or studio sampling being utilized. All arranging is largely improvised, although Sonarchy has collectively composed pieces when working with visual elements such as dance and film."
Then Holzkopf (aka Jake Hardy) took stage and immersed the audience with ever changing, overlapping thick blocks of sounds he creates with his bizarre, homemade or broken equipment including synthesizers and some type of a cassette player. At times he also brought in his voice or shouts and yells in the form of heavily processed noise. Resulting cacophony was quite interesting and surprisingly enjoyable.
The second full set was of Scanner, world-renowned new music artist from London. After his performance, he described his music and performances as being different every time and that he doesn't really have a show. He only has a very rough idea about the material he is going to use and something to start with. He then basically plays, shapes, and sculptures his sounds on stage according to what he feels, how the audience responses and the time he has left on stage. This particular performance was very rhythmic and he made good use of vocal sounds. He says he wants to evoke emotions rather than intellectual ideas in the audience, and "get those hands off the chins".
The night ended with the set by David Shea. He started off by stating his admiration of the Canadian filmmaker Arthur Lipsett, famous for making movies with unused, thrown-away film tapes, cutting and splicing them together, and showed one of his movies called Very Nice, Very Nice. He then, as a tribute to Lipsett, performed an audio/video piece, which is a "Lipsett"ing of Lipsett's films. He also performed a piece, based on a mythological story, called Sita's Walk of Fire.
The last night of the festival started with a lecture/presentation by Mark Hosler of Negativland. He talked about the unbelievable and amusing experiences Negativland had related to copyright issues, at times expanding on the issues raised at the panel in the morning. He also showed clips of their work, telling the stories behind their creation, and clips related to the experiences they had. The clips he showed can be found on their DVD called Our Favorite Things, which was available at the festival along with their book about the particular copyright issue they had with U2, covering it in every detail with the original documents, and they can also be found on YouTube.
The festival ended with a wonderful performance of Uri Caine's works for a band of drums, saxophone, electronics and Uri Caine himself on the piano. "Described (by Fred Jung, jazzweekly.com) as a "a brilliant improviser that combines his subtle, but evident knowledge of classical music with his tremendous improvisational creativity", Caine's work is marked by a desire to re-contextualize and re-approach musical genres, and often, to introduce—or reintroduce—improvisation where it is not ordinarily found, as in his many so-called "remixes" of classical composers such as Bach, Beethoven and Mahler."
Overall the VNM Festival was packed with new art, new thought, and was engaging and influential on many levels – a thing one rarely gets to experience in public events these days. It was also significant in presenting new music in an event of such stature.
Posted on:

12 April 2016

By:

Administrator

Author: Atakan Gunal