Two Door Cinema Club at the Orpheum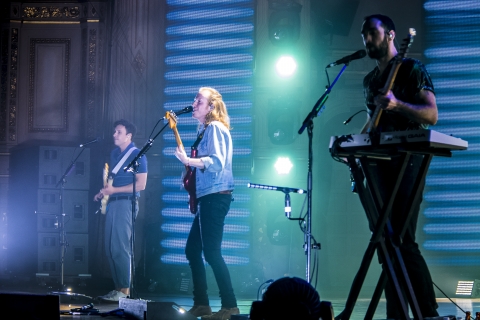 When I heard that Two Door Cinema Club would be headlining in Vancouver, I was hit with a wave of nostalgia. Like many fans who played the band's first two albums Tourist History and Beacon on repeat over five years ago, I knew this was a show I didn't want to miss.
I arrived at the Orpheum theatre on April 18th and joined a nearly sold out crowd, waiting for the show to start. Opening for Two Door Cinema Club were Vancouver locals The Zolas, who always put on a passionate and lively show. Before the main act had even hit the stage, The Zolas had the theatre on their feet. They were the perfect accompaniment for the unmistakable indie rock sound of Two Door Cinema Club.
The band is currently on tour supporting their third full length album Gameshow, but that did not mean that we wouldn't  hear a handful of older Two Door classics. The band opened the show with a bang, playing "Cigarettes in the Theatre"and "Undercover Martyn"right from the get go. This was a perfect way to warm up the crowd for the rest of the show, which included a perfect mix of all three albums, and seamlessly transitioned from one to the other.
Not only did they sound great, but the visuals and lights perfectly accompanied the music and created a really fun and energetic atmosphere for the fans. Each song was accompanied by its own moody setting designs that were displayed on multiple screens behind the band. One stand out moment was the beginning of "Next Year"in which matrix style letters and numbers filled the screens.
All of the band members seemed truly excited to be a the show, and played with a ton of energy. Frontman Alex Trimble really got into the set around the third song and the crowd was right there with him. Almost everyone in the audience sang along to songs like "Something Good can Work,"Changing of the Seasons,"and "I Can Talk."The best part of Trimble's set for me was "Bad Decisions,"a song from Gameshow. His voice and demeanor for this song made it impossible not to dance to the funky rhythm. 
Sam Halliday's guitar playing also deserves a mention here, as he played the recognizable guitar riffs perfectly. One fan mentioned that, "his entire set is basically a guitar solo."He got his chance in the spotlight in "Sun, which the band closed the show with before coming out for an encore, which included "Someday"and "What You Know,"the perfect end to a perfect night.
In the entire show, there was not one slow moment. Two Door Cinema Club delivered an awesome performance that kept the crowd up and on their feet, dancing and singing along to both the old and the new.
Posted on:

10 July 2017

By:

arts and entert...