tUnE-yArDs with Pat Jordache
How many times have you heard someone say 'Oh yeah, their albums good, but MAN you gotta see this band live!! You won't understand it till you see it live!'? Then you go see the band and it's alright, but you can't help feeling that your friend has a bad case of superfanitis.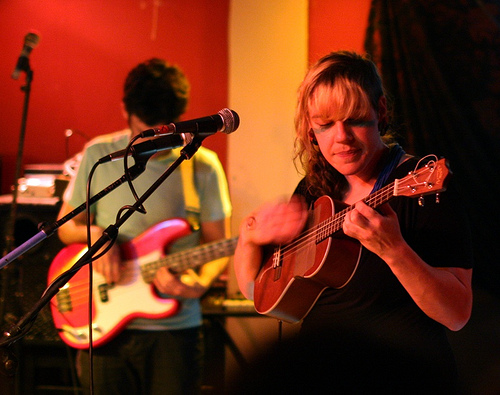 Well, when someone says that about tUnE-yArDs, you can take it to the bank. This is one band that really does need to be experienced live. Merrill Garbus is the real deal in person. Energy, emotion, commitment and passion flow freely from her at all times on stage. Sure, her music is a bit off-kilter, but there is nary a soul that could deny her amazing talent and dedication to the craft of music.
This was the case Friday night at the Biltmore. The inside scoop was that promoters had actually over sold the event and surpassed the usual 450 person limit, you could tell. It's high time for Merrill and Co. to move up to a Rickshaw size space, maybe even Venue. Judging by how quickly the event sold out, there is little doubt she could fill a bigger room.
But the lack of sight lines didn't take away from the energy of the event. She had people enthralled from the opening drum loop on first track 'Gangsta'.
One of the things that make her shows so special is that she almost single handedly creates all the percussion and beats in each song herself. She does it with such ease that it made me want to run to Long and McQuade and buy the same looper pedal to create my own one-man-band. In addition to the percussion, she also loops her vocals so there is a seeming choir of Merrills singing each song. Quite a sight.
The highlight of her sparkling set was the track 'Bizness' of the album W H O K I L L. The whole crowd bobbed along in time to the two sax players bizarrely catchy melodies, smiles on every face.
Although she has visited Vancouver twice in the last year, I wouldn't be surprised to see her tour again after her planned European tour.
Opener, Montreal based Pat Jordache, got the night off to a great start with his up-tempo indie rock. He manages to escape the "Montreal" sound that follows around many of his compatriots. It's an entirely unique blend of rhythms and melodies, at times poppy but always anchored by Jordache's deep baritone. His voice really separates him from a sea of other bands whom have similar sounds. One person I was with made the astute observation that Jordache and crew looked and sounded like a really young, peppy, version of the Smiths. I had to agree.
Photo: tUnE yArDs preforms in Washington DC / Photo Credit: Mehan Jayasariya
Posted on:

12 April 2016

By:

Administrator

Author: Mitch Pollock