Teenage Fanclub at the Rickshaw Theatre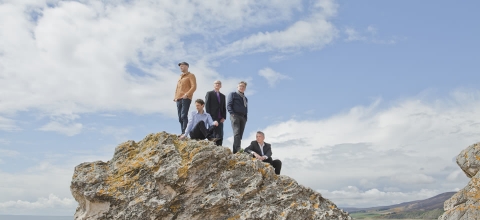 As irrelevant as it may seem, the first thing that struck me when Teenage Fanclub took the stage was their age. They looked like a band made up of your friends' dads. Not that it matters, but certainly most of the working bands, especially those frequenting smaller venues like The Rickshaw are made up of young people. Not to mention that Teenage Fanclub's most well-known albums and music videos are from the early 90's, and show them as the typical long-haired 'youngsters.'  It just made me laugh that it'd never struck me before that they might['ve aged.
Teenage Fanclub's most well-known album Bandwagonesque, came out in 1991 alongside iconic releases like Nirvana's Nevermind, or My Bloody Valentine's Loveless. Teenage Fanclub never hit it as big any of those bands, though it's curious as to why. Their music is immediate and catchy, full of both poppy hooks and great guitar licks, just like Nirvana. They've continued putting out albums since then, and it continues to be.
In concert, they didn't do too much bantering with the crowd and got straight down to business. This was my first time seeing them, and I appreciated that they do a great job at replicating their unique sound they have on their albums, one that is uniquely their own, but is broad enough to appeal to a lot of people. At this concert they mostly played material from their most recent album, Here, which came out in September 2016, which certainly has their iconic sound that their fans have come to love, though perhaps slightly more mature-sounding than Bandwagonesque. They also played a smattering of their classic material, which the crowd reacted positively to.
The Rickshaw is a fairly small, intimate venue, with good sound quality. I especially appreciate that you are close enough to the stage for it really feel like an intimate show. It's also easy to get a good read on the crowd and it was pretty clear in this case that Teenage Fanclub had some hardcore fans that really knew their material (unlike me, who knew Bandwagonesque, dabbled in some other material, and had listened to the new one to prepare for the concert). Clearly they were doing a great job at playing to their biggest fans in the crowd, by playing the new material they purchased, old hits everyone knows, along with some obscure gems that only the hardcore knew. For those like me who are more casual fans that especially appreciate their masterpiece Bandwagonesque, the solid musicianship and catchy pop melodies still made it a very enjoyable concert. I was definitely inspired to go back and listen again to the material I missed.
Posted on:

10 July 2017

By:

arts and entert...