Pretty Reckless
Momsen has desperately tried to set herself apart from easily marketed pop garbage stuff by dissing Gossip Girl and acting in interviews and flashing her audiences on stage at shows. She is trying to transform herself into a bit of a bad girl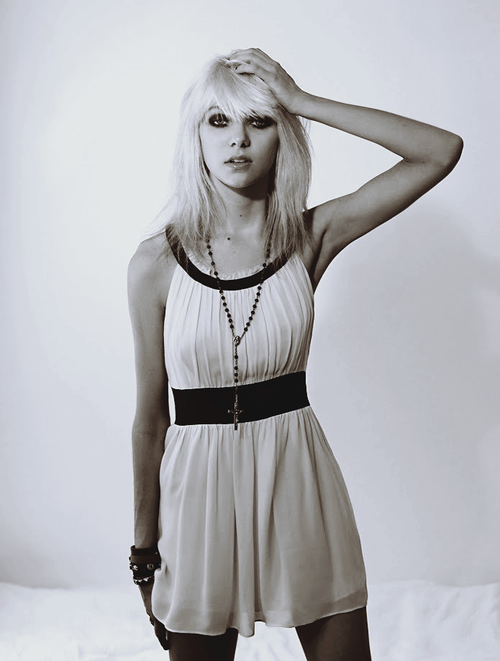 March 18, 2012 / Rickshaw Theatre
Pretty Reckless is the new band from ex-Gossip Girl actress Taylor Momsen. You might remember Momsen as "Little J," the little sister and point-of-view character in the series. Momsen caused quite a stir in press when she left the popular teen-oriented soap to start a band.
It's hard enough to make it in entertainment, so whenever anyone gives up success on TV to dive into the turbulent and rapidly-collapsing waters of the music industry, no one can be surprised when that decision is regarding with raised-eyebrows and a few guffaws. Just to contrast, one of the girls form the TV show The Vampire Diaries is also trying to launch a music career, but she is doing dancey Katy Perry-lite pop music.
Momsen has desperately tried to set herself apart from easily marketed pop garbage stuff by dissing Gossip Girl and acting in interviews and flashing her audiences on stage at shows. She is trying to transform herself into a bit of a bad girl.  
As I walked into the Rickshaw on Sunday, I was curious to see just what "Little J" had become.
The two opening acts Hollywood Kills and Parlour Mob played old school-ish rock music. Parlour Mob were really great—it's really too bad their name is just so awful. I felt sorry for them as they stood together awkwardly at the merch table after their set: Five gangly but talented "alternative" guys trying to win over fans in a crowd here to see a skinny blonde teenage girl.
The crowd was really here to see Taylor Momsen and her band. I was amazed by the sheer diversity of her fans: gay dudes 20-30 who work in retail, lesbian couples, teen boyfriends who took their teen girlfriends to the show and over-30 drunk dudes who told me over beers that their wives would allow them to have sex with Momsen if they could (somehow) convince her. Of course the expected teenage girls (who had grown up with Little J on TV) were there, but it was not like going to a Panic! At the Disco concert three years ago.
Momsen herself is a surprisingly confident rocker. Watching her vamp it up onstage was a little uncomfortable (considering she is barely legal) but maybe this is part of her rebellion? Her music is also curiously out of step form what marketers try to shove at teens these days. The record is of course polished and radio-ready, but onstage Momsen creates a more rebellious persona, recalling NIN or other harder, darker 90s acts. Think bubble-gum goth. Or whatever the new name marketers will give to a potential goth revival.
It's nice to see youth culture speak to darker themes again. It's hard to tell if this is a career misstep for Momsen or if she is tapped into the next trend. And it's very interesting to see a formerly mainstream actress rebel against pop conformity in her own way. If she sticks with it, she could become the next Courtney Love type (hopefully without all the tragedy). But if this band thing doesn't work out, I am sure she could go back to TV, or just go to university. She is only 18 after all.
Posted on:

12 April 2016

By:

Administrator