THE LEMONHEADS
Arriving at the Biltmore early on this Friday night, most of the crowd seemed to be already anxiously awaiting the arrival of their heroes The Lemonheads who were in town to play their 1992 breakthrough record It's a Shame About Ray in its entirety.
        The initial ticket price listing for this event was a surprisingly reasonable $13.00! which seemed super cheap to see a band of this ilk; an influential band who gave a shot in the arm to music, particularly at a much needed time in the early 1990's.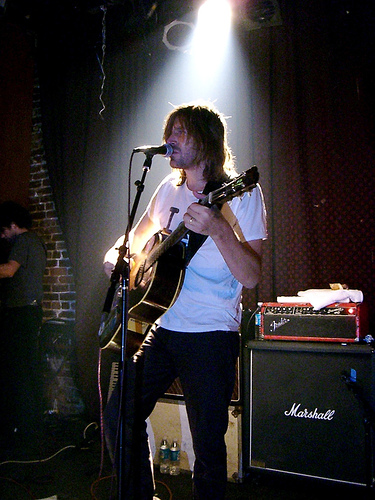 Despite my early arrival to take in the initial sights and sounds, sometime around 8:30 I found the venue to be filling up rather quickly. In fact I later learned that attendance had reached capacity before the opening band had even taken the stage and walkup tickets were no longer being issued at the door. Around this time I observed front man/guitarist Evan Dando at the side of stage right conversing with roadies, techies and others seemingly surveying the performance area and giving it a last once over. 
         However this may have been a precursor to what I was to later find out as the biggest surprise of the evening. And that was that the initial guest list of opening acts containing Erich Luening, Street Chant, and The Shining Twins, was to be widdled down to only two bands and that only The Shining Twins would actually make an appearance. But by the time all was sorted out, it would be edited yet again and by the end none of these initial bands would play. Instead a local band by the name of The Slow Learners would. 
         A three piece consisting of a female drummer, a rather active bassist and a seemingly joyful guitarist, they appeared to be having the time of their lives just by being asked to play this venue; or perhaps be the opener. They treated guests to songs like the appropriately titled "Replacers" in addition to others like "Party Police" and a rather interesting cut late in their set entitled "Deedler".
          Taking the stage about half an hour later, Dando would play solo for three cuts to kick off The Lemonheads set, then joined his band mates for some haphazard selections from Ray; the album they were here to play. But throughout the night we heard no less than five songs from 1996's Come on Feel and three from Car Button Cloth. One surprise I was personally pleased with was hearing "Stove" which initially appeared on 1990's Lovey and was a later contribution the Fort Apache compilation. A single 2 song encore included "Great Big No" from Feel and "No Backbone" from 2006's self titled disc. I was so impressed that instead of just mailing it in, they played for about 2-2 ½ hours strong. So it just goes to show you that unpredictability and karma can throw you a treat every once in while.  
Photo: Lemonheads live in Orlando Florida (Credit: MrMatt/Flikr)
Posted on:

12 April 2016

By:

Administrator

Author: Scott White