Joey Bada$$
Vancouver gets its fair share of awesome hip hop shows, but I sure hope this city felt privileged for hosting this event. Joey Bada$$ and pretty much the whole Pro Era crew are so cool right now. The eighteen year old rapper has only been making waves internationally for about a year but he attracts a crowd so intense you'd think he'd been doing this for years. Or, at least that's what the audience at the Vancouver show seemed to be acting like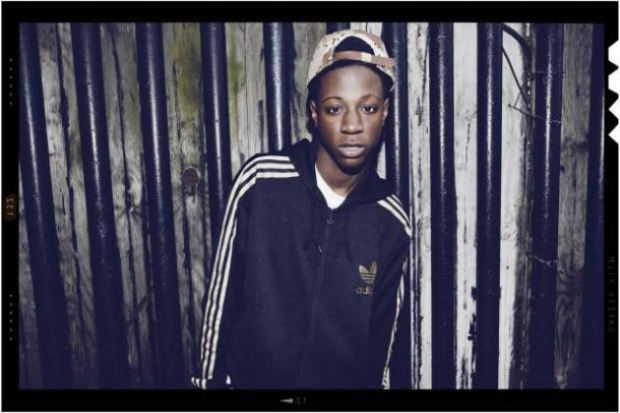 I really got into Joey Bada$$ after hearing his track with the late Capital STEEZ, "Survival Tactics". My initial thought was how much his flow sounded like Nas. Even though Joey just happens to be from New York, and they happen to have similarly pitched voices I don't think he is necessarily copying Nas, but he's definitely channeling the great MC's smooth style (over Illmatic type samples too). The whole Nas vibe makes him attractive to hip hop connoisseurs and his youth and humbleness makes him attractive to everyone. 
Although all of the rappers, Joey Bada$$ especially, have turned out some very conscious and thought provoking lyrics, last night's show had a real emphasis on a fun, careless, screw-em attitude: I loved it. Sadly I missed the Underachievers. I guess I did see them in the show's encore, but I was looking forward to hearing their EP live. 
We got a nice spot near the front to the left. The concert was at the Vogue theatre. I convinced myself I'd never been in there, but when I went in I instantly remembered other shows where I enjoyed the floor and sound, last night proving again that it is a great venue. 
Flatbush Zombies started playing around 10. I was instantly energized by their performance. They don't have as many chill tunes as Joey, and I think they were the perfect group to work the crowd pre-Pro Era. Flatbush are pretty obsessed with drugs (that's actually the acronym of their last mixtape) and they repeatedly asked the crowd if they were down with that: I don't think anyone at this show had a problem with it. Of course the questions, shout outs, and chants were over unbroken beats, and they did a great job of keeping the energy up until the break. DJ Statik Selektah was the interlude before Joey came on. Honestly there's not much to describe about what he was doing, and although I wasn't impressed I will say he kept the excitement up over what seemed to me like such a long time between sets.
The Pro Era crew have this one song off their album PEEP: The aPROcalypse called "Run or Fly" where they repeat "Before you fly you gotta run, before you run you gotta walk, before you walk you gotta crawl, before you crawl you gotta be born" but Joey and the rest of the guys in Pro Era turned out to be complete contradiction of this. They grabbed our attention and yet they were already flying really, really high. Joey came on solo at first: no surprise there as he was the main draw for the evening. He didn't seem to be feeding off the crowd's energy, instead creating his own hype by giving some of the smoothest live rap I've ever seen while jumping everywhere and just generally working the stage like he was out to win a prize. Joey seemed so contented the whole show. He never thanked the crowd for being great (which they were: good job VanCity!), but he used an appreciative tone whenever he gave us a shout out. Almost all of the songs from his mixtape 1999 were run through and I was happy that as the Pro Era guys joined him (the award for holding their own next to Joey Bada$$ goes to CJ Fly) we got to hear lots of their collaborative stuff too. I'd have to say their tracks I enjoyed the most throughout the night were Resurrection of Real, School High, and my original fave Survival Tactics which the entire Beast Coast tour made huge in a fantastic encore.
There was an unbelieveable amount of talent there last night, and when they're hitting it this hard this early I think we can only expect more! If you missed last night's show then I feel really bad for you: but there will be great Bada$$ performances here in the future, this is guaranteed.
Photo from AllHipHop
Posted on:

12 April 2016

By:

Administrator

Author: Kiara Shibley