Japandroids
Japandroids certainly have become the darlings of Vancouver. Making their return to their hometown for the first time since the release of their sensational sophomore LP, Celebration Rock, Brian King and David Prowse played to a restlessly eager crowd at the Biltmore Cabaret on July 7th. And sure enough, every itch was satisfied for each concertgoer.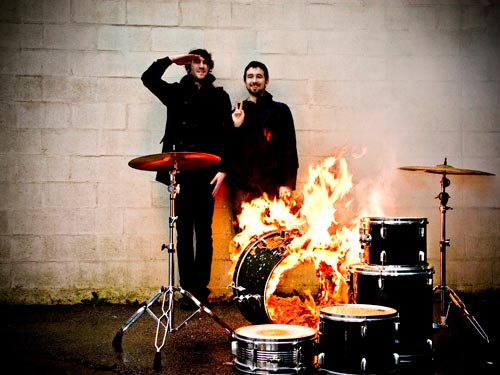 the intro of "Press Corps", as they often do, before cutting into the opening number off of 2009's Post-Nothing, "The Boys Are Leaving Town." From there, the band performed all Celebration Rock, while filtering in notable cuts from the previous record.
One thing that has always stood out about this band, above others, is the unquestionable respect they have for their fanbase. And this show was a shining example. King's banter throughout the night was insightful and genuine, relaying sincere appreciation to the crowd and specific people who were involved with the record, but also provided tidbits and anecdotes about the band and their music that is rarely addressed in a live setting.
Far from being a band that would simply 'shut up and play', King would explain the relationships that the band had with the songs, where they came from, as well as pointing out that Prowse's drum solo on "Evil's Sway' was the drum solo for this generation (a claim he boastfully welcomed other bands to challenge).
But the real sign of appreciation was the level of heart that Japandroids plays their music with. Clearly weathered by the current tour, the team could have very well been running on fumes, but they would never let you know it.
About midway through their set, during "Wet Hair", the duo started to show signs of fatigue as they struggled to hit their notes and the energy was dwindling. Refusing to bend to mediocrity or the risk of their set being described as merely a "pretty sweet set", they kicked into "Evil's Sway" and "The House That Heaven Built" before giving themselves a moment to catch their breath with the slow trudge of "Crazy/Forever"
By now, the story of Japandroids is well-known: Celebration Rock was conceived on borrowed time, having been at the brink of a breakup prior to the release of Post-Nothing. Fortunately, because of its widespread critical acclaim and unapologetic live show, this band has been fully revived. But if this show was indicative of anything, they still play as if they'll die tomorrow.
Setlist:
"Press Corps"/"The Boys Are Leaving Town"
"Adrenaline Nightshift"
"Younger Us"
"Fire's Highway"
"Rockers East Vancouver"
"Night Of Wine And Roses"
"Wet Hair"
"Evil's Sway"
"House That Heaven Built"
"Crazy/Forever"
"Sovereignty"
"Continuous Thunder"
"Young Hearts Spark Fire"
"For The Love Of Ivy"
Posted on:

12 April 2016

By:

Administrator

Author: Jamie Cessford