Garbage: The "Queerest of the Queer" Return!
On a Saturday September 29, a night that had Vancouver concert-goers choosing between Madonna, Weeknd, and Bloc Party, a solid crowd turned out to see the return of 90s cult-favourites Garbage.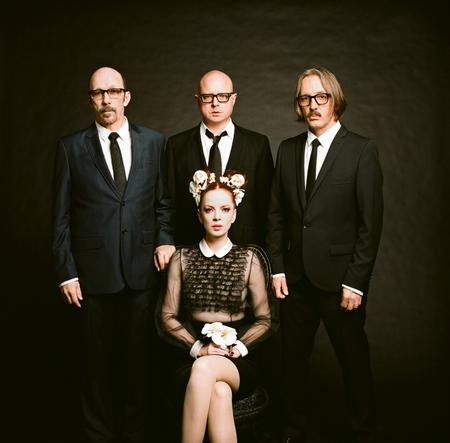 For those of you who don't remember, Garbage was a sort of "super group" pulled together by Butch Vig. Vig a band and producer veteran is mostly remembered for producing Nirvana's Nevermind. Garbage found unexpected success in the mid-90s—and strangely not as many people remember them as I might like. Remember that stylized remake of Romeo & Juliet with Leonardo DiCaprio and Claire Daines? Garbage did the signature track for that. ("#1 Crush.") They also did the theme song for a Pierce Brosnan Bond film. (The World Is Not Enough.)
Even back in the day, Garbage was never completely understood. Sometimes they were mislabelled grunge music (probably due to Vig's Nirvana collab.) But mostly, their blend of indie 90s rock and electronic elements combined with Scottish front woman Shirley Manson's vampy, but not stupid, persona defied industry genres.
That night, the crowd was a nice mix of grizzled rock fans, husband and wives duos who liked the band "back in the day," and gay fans (Manson is a bit of a gay icon.) While waiting to check my bag, I met two guys who met Shirley the day before and helped her find some makeup. She then gave them free tickets to the show. She was "really nice," they told me.
Opening act Screaming Females was best summed up by Manson herself during a break on stage: "I think she [Screaming Females front woman Marissa Paternoster] deserves a career in rock and roll because she is talented and loud and not afraid to be herself."
After applause and the shrieking agreement of an ex-Suicide Girl turned office worker beside me stopped, Manson continued: "It's a bad time in rock and roll for women who don't always want to be liked all the time." Manson then mimed strumming a guitar onstage like Taylor Swift.
That said, the crowd at The Centre were quite happy to revel in the madness created by a female-fronted rock band—who are definitely not afraid to be themselves, even when this might be "unlikable."
And for the Vancouver music fans who want to check out a track, listen to Garbage "Only Happy When It Rains"—special autumn weather music that Raincity residents can empathize with.
Follow us @interview_show
the interview show is everywhere!
www.cjsf.ca (Vancouver, BC, Mondays 4:30-5pm PST and Wednesdays 12:30am PST)
www.ckdu.ca (Halifax, NS, Saturdays 1:30-2:00am AST)
www.radiocfxu.ca (Campus Community Radio, Antigonish, NS, Fridays 11pm-12am AST)
www.cfru.ca (University of Guelph Radio, ON, Tuesdays 3pm EST)
www.umfm.com (Winnipeg's Hit Free Radio, MB, Fridays 6-6:30pm CST)
www.caperradio.com (Cape Breton University Radio, NS, Wednesdays 2:30-3pm AST and Fridays 5:30-6pm AST)
Permalink: www.winniecooper.net/tag/the-interview-show/
Posted on:

12 April 2016

By:

Administrator