Ensiferum
CJSF volunteer Michael Livan attended Ensiferum's second Vancouver performance at the Rickshaw Theatre on November 23rd, this is what he had to say about the show....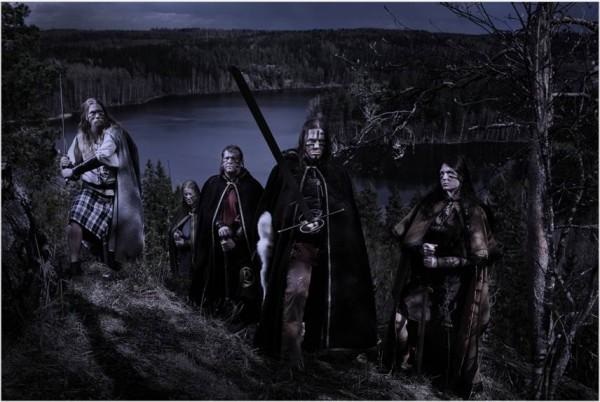 Clad in kilts and war paint, and wielding their respective weapons (or instruments), Ensiferum shook the solid concrete walls of the Rickshaw Theatre on November 23, 2009. To my knowledge this was Ensiferum's second time performing in Vancouver. The first time was in October 2008 when they opened for Amon Amarth. It was a treat to see them back then, but it was also quite unsatisfying because as an opening band they only got to play a short 45 minute set. There is no way a band of Ensiferum's caliber could do justice to such a short set. This time visiting the Pacific North West they headlined. Justice was served.
Ensiferum's name is derived from Latin meaning "Sword Bearer." They are a Folk Metal band from Finland, and are one of the leaders within this subgenre today having achieved somewhat of a signature sound. Their lyrics are based in fantasy and legend, and behind the Cookie Monster vocals there are strong melodies and rhythms rooted in traditional European Folk, bordering on Celtic at times. Once in a while they even touch upon Western themes, but make no mistake; Ensiferum is 100% heavy metal. Despite having been plagued by several lineup changes over the years, guitarist Markus Toivonen being the only founding member to remain since forming in 1995, Ensiferum has managed to stay true in spirit and in sound to the brand of metal they represent. The current lineup is top notch, with honorable mention going to Sami Hinkka who might be the most phenomenal bass player I have ever seen play live – on a six string bass no less!
The live show was a memorable one. The musicianship was top notch, and the audience's energy complimented the energy coming off the stage. They started out with From Afar and Twilight Tavern from their latest release, and then made their way through their catalogue. Their new material holds up very well against their older stuff indicating that this band has yet to peak. Some of the highlights were the epic Stone Cold Metal, the chant-along anthem Lai Lai Hei, and the quick crowd pleaser Slayer of Light. While the playlist was comprehensive, I was a little disappointed by some songs that were omitted such as Into Battle and Blood is the Price of Glory. However, considering that Ensiferum has four solid albums worth of material to select from, it would be impossible to put together a set that would cover every fan's favorites. Perhaps this kind of disappointment is actually a compliment to the band.
Ensiferum is currently touring to support their latest release From Afar.
Posted on:

12 April 2016

By:

Administrator

Author: Michael Livan