THE DEEP DARK WOODS with The Sumner Brothers
It's a good thing people arrived early for this early show, as a healthy crowd swelled to two waiting lines. According to some of the staff there were only a handful of tickets left for purchase by the time the doors opened.   Even though The Biltmore was scheduled to open at 7:00, it opened a half hour later, although I had a feeling that they wanted to create a buzz out front, and they certainly met that objective.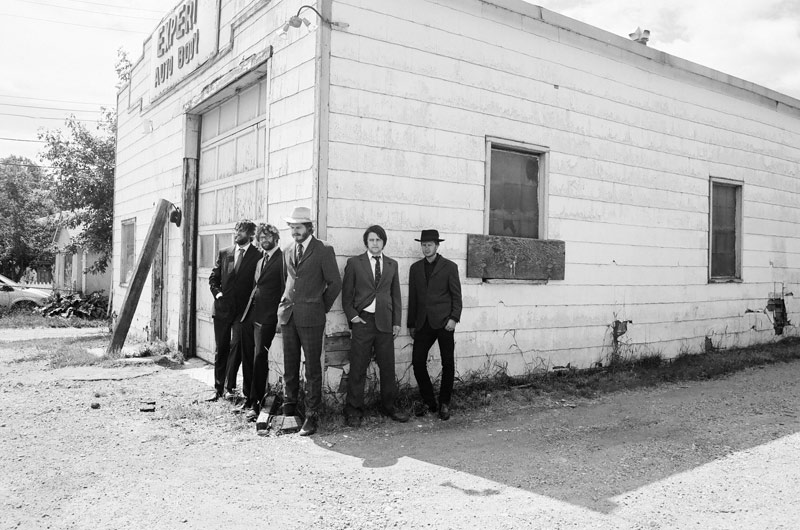 The opening act was local alt-country rockers, The Sumner Brothers.  They were slated to take the stage at 8:00 sharp and certainly didn't disappoint.  A band with the county swagger of Johnny Cash, the bluesy side of Steve Earle with a dash of the folk, and a side of Tom Waits, they seemed to be in their element and quite pleased to be an opening act. 
They played a few songs from their back catalogue like "Going out West" from 2006's In the Garage as well as "My Words" and "Girl in the Window" from 2008's self titled release.  The standard guitar, bass and drums were all there including one of the brothers with a hollow-body six string.  Geoff Hilhorst from the The Deep Dark Woods was even called up onstage halfway through the set to add some organ and keys to a couple of songs.  They played a ten song performance to a solid sold out crowd and I got the feeling many of them haven't yet been laid down onto disc format.
But make no mistake about it; people were there primarily to see the alt-country, folk rock outfit: The Deep Dark Woods.  The band hails from Saskatoon, although most of the members are originally from other surrounding areas.  This band certainly has its roots in the Canadian landscape and stands out with elements of early Neil Young and The Band.  Yet I also noticed something more earthy and organic about them, that late 60's hippie movement often associated with The Grateful Dead. 
The quintet has released its most recent full length The Place I Left Behind on Six Shooter records, and they definitely gave fans a huge dose of the new disc.  Most of the tunes from the album made to the live rendition.  "Westside Street", "Sugar Mama" and the title cut, as they were all tossed out early during the first five songs.   While "Glory Hallelujah", and "River in the Pines" from 2007's Hang Me, Oh Hang Me took off later in the night.  After an eleven song set, the crowd cheered for an encore and the band obliged with two songs including "All the Money is Gone" from 2009's Winter Hours.  Then despite a strict 11:00 curfew, they were permitted to play one final tune "Big City Lights"; this seemed in anticipation of their upcoming road trip along the US coast.      
Photo from thedeepdarkwoods.com
Posted on:

12 April 2016

By:

Administrator

Author: Scott White