Coco Rosie
On Wednesday September 16th, France/NY's nomadic sisters act Coco Rosie played a show at the Vancouver's Red Room in promotion of their new full-length album anticipated in 2010, CJSF volunteer Lise Monique reviews...
The nights that I feel like getting out of my home can be compared to watching molasses coming out of a carton, eventually wanting to give up, stay in, and read a new novel or watch the food network. Knowing that Coco Rosie was playing on a gloomy falls eve, I was determined to spice my wardrobe up, put on red lipstick and get my ass down to the Red Room.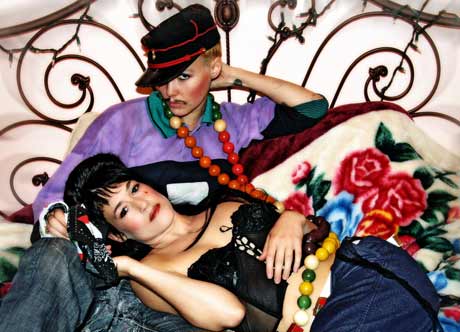 Normally my protocol for shows is to arrive past 10pm so I don't have to wait around however, my friend from Montreal told me "you don't want to miss the first half."  By half I was assuming Coco Rosie would start at 8pm as the ticket read and go on for 3 hours. Nope I was wrong. Often I forget that music is one of the only performance arts that rarely starts on time, and by first half, she meant the opening act.
The perfectly crafted opening act, Katie Stelmanis, from Toronto really started the night off right and was a great prelude to Coco Rosie. As the air was getting more intense for Coco Rosie to come on, the time it took for them to access the stage was a bit disappointing. Disappointed I may have been while waiting, when they took the stage in their oversized gangster garb and childlike makeup/face paint it was unlike anything I had ever seen before.  Both sisters, Bianca and Sierra had once again charmed the sold out audience with costumes not even David Bowie could pull off. 
Their music, hip hop ridden, was highlighted by beatboxer Spleen, who joined the sisters on their tour. Coco Rosie played for roughly 90 minutes, including in their set a healthy chunk of their past works. To my surprise and enjoyment Coco Rosie  reached all the way back to their groundbreaking debut La maison de mon reve for "By Your Side" and, late in the set broke out, "Terrible Angels." Highlights of the show were constant, but the best part of the night included The Adventures of Ghosthorse and Stillborn's "Rainbowarriors." The quirky-pop anthem "Japan" (which you almost think is a theme song for Japanese Airlines), "Beautiful Boyz" and a cover of Kevin Lyttle's soca ballad "Turn Me On." With a receptive and attentive crowd, the Cassidy sisters, at times seeming awkward underneath their makeup, were deserving of their thunderous encore.
For more information on Coco Rosie's current tour and music visit:
Posted on:

12 April 2016

By:

Administrator

Author: Lise Monique