Andrew W. K.
At one point, no band member could be seen as they were all surrounded by fans and bananas alike. This was apparently a major issue for security as those on stage were hurled into the audience in a futile effort to keep people from dancing around Andrew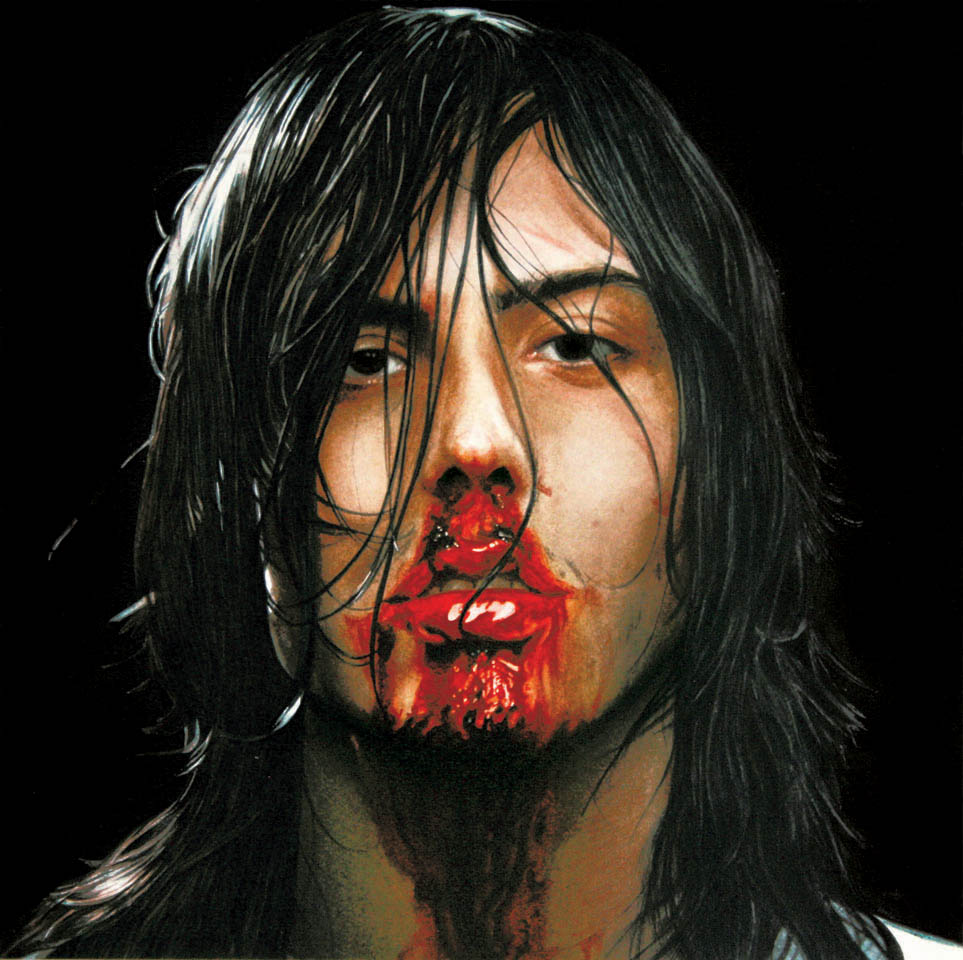 In recent months, if you were to mention "party rock", it would evoke shrieks of "LMFAO!," fits of shuffling, or some action equally as obnoxious and perplexing. However, if you were to ask anyone who was at the Venue on March 3rd what "party rock" means to them, their understanding of the term would be in no way related to synth-pop ballads; rather, to them the term relates to the hard rocking, crowd surfing, good-times-having genre pioneered by New York artist Andrew WK. For the next five months he is on a world tour celebrating the 10 year anniversary of "I Get Wet" with each performance featuring the album in its entirety.
It was not hard to know which people were going to see Andrew WK. Their appearance said it all. Like salmon spawning in a river, crowds of jean jackets and nose studs seemed to descend upon one location in the downtown core, and they made their purpose quite clear as chants of "party hard!" could be heard from streets away; however, upon entering Venue, it became apparent those prototypical punks only made up a small portion of the audience going to see the hard rock concert.
The night opened with a performance by Vancouver band, the Evaporators, fronted by legendary rock journalist Nardwuar the Human Serviette. The choice of the Evaporators came off as a head turner to many as their style is so fundamentally different from Andrew WK's; however, the friendship between Andrew WK and Nardwuar goes back a long time.
"The first time I saw Nardwuar was in an interview with the Sonic Youth" remarked WK at the packed Neptoon records show "and they broke all the gifts that he got for them. From then on, I said to myself that, if I ever did an interview, I wouldn't break any of their gifts. Eventually, I got to do an interview with Nardwuar and since then, he has given me so many gifts over the years."
Several hours later, the Evaporators took the stage at the Venue and proceeded to warm up the crowd. With spectacular costume changes, cheesy lyrics (literally, there was a song about cheese), and crowd surfing keyboard solos, the Evaporators got the crowd excited and ready for the partyfest that was to come.
WK began the set with the first song off "I Get Wet", "Its Time to Party", and was it ever a time to party. The crowd immediately went into fervour, jumping around and shouting the lyrics without discretion. With every person shoved in the mosh pit, and with every crowd surfer falling flat on his face, WK seemed to get more and more enthusiastic which translated into bashing the keys of his keyboard more vigorously.
Things didn't really heat up until the second song, "Party Hard" which, incidentally, is Andrew WK's most popular song. If any discord or reason existed in the audience prior to WK singing the opening lyrics, it sure as hell wasn't around after then. The energy level suddenly skyrocketed as the size of the mosh pit grew exponentially and encompassed almost the entire dance floor. With every mention of the "p" word, it seemed four new people were suddenly flying overhead being carried towards the stage in a desperate effort to sing the lyrics with the front man.
Speaking of singing with the front man, it seemed that every new person that landed on his stage was welcomed by Andrew like a guest in his home as he would throw his arms around them and let each person belt out the lyrics. What an all too accommodating host.
If one was to expect a lull in the energy following "Party Hard" then they were in for a rude awakening. Andrew WK continued to rock out viciously on his keyboard as he moved on to "I Love NYC", "She is Beautiful", and "Party till you Puke", each getting similar reactions to "Party Hard". By the time WK got to the song "Fun Night", it became probable that everyone in the audience had at some time been on stage with the band.
At one point, no band member could be seen as they were all surrounded by fans and bananas alike. This was apparently a major issue for security as those on stage were hurled into the audience in a futile effort to keep people from dancing around Andrew. During the entirety of the pandemonium that took place on stage, Andrew never stopped playing and sang every note as if he not broke a sweat.
By the time that he had slinked back onstage for his encore, it became apparent that Andrew was in an endurance competition with the audience. More then half the mosh pit was left panting for air while those who remained standing were barely jumping at all. My guess is that Andrew absorbed their energy and converted it into more onstage partying. The thought that he will be doing this every night for the next several months is truly astonishing.
At the final "good-night," many things became clear to the audience: first, they could no longer hear. Secondly, they had witnessed a fantastic show, a class act comprising of energy, positivity, and jubilation. Lastly, at the end of the evening, everyone knew something very important about the man that had just performed on stage. What they learned that night was that no one parties harder then Andrew WK. Ever. And don't let any LMFAO fan tell you otherwise.
Posted on:

12 April 2016

By:

Administrator

Author: Sacha Husband