VIFF Review: The Strange Little Cat
It might be enough to describe The Strange Little Cat as subtle and contemporary, yet this minimal-themed film is a little too quaint to settle with a simplified observation. Its characters don't beg to be analyzed, although they reflect the passive-aggressive attitude which the film portrays. This compels their spectators to continue watching, and waiting for the next offbeat response.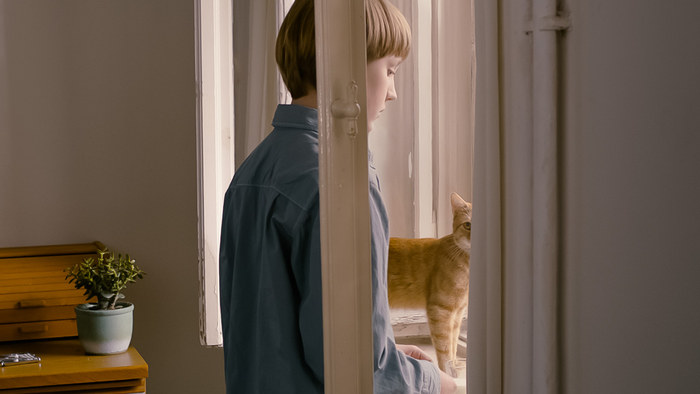 Ramon Zurcher presents an effortless verisimilitude in his directional debut—a narrative which may bind its spectators with the question of what is normal and absurd in an average urban household. It is evident that this film has little to do with the cat and more curiosity of its witty characters.
The film features a modern, middle class family living in their small Berlin apartment, each pacing between one room to another. The main social space is the kitchen where work and relaxation appear to work best together, particularly with each distinct character. Mutter (Jenny Schily) pursues her role as a modern housewife who, by her placid expression, displays early stages of a midlife crisis. Her daughter Karin (Anjorka Strechel) stereotypes the nonchalant early-20's age of experimentation—as she casually rolls her own cigarettes. Youngest daughter Clara, who literally screams for long periods only to imitate electronic sounds, is eager to join the world of her adult companions but in the meantime comprehends the nature of growing up. The most observant is their teenage cousin Jonas, who plays a significant role as the floating figure who connects the generational gaps within the family.
The film portrays this generational gap as a factor for any lack of communication as conversations between two interacting characters are shown in inconsistent patterns. Zurcher does not move the camera around too much nor often switches from one shot to another, and therefore does not convey a complicated storyline. Only that this helps the film's audiences concentrate on the featured subject on screen. Each one is isolated using long continuous shots. Likewise, this is enough time for us as spectators to observe the characters who are also observing themselves.
Still, there is nothing that I find to be 'strange' in The Strange Little Cat but the constant anticipation for oomph (a pinnacle or sudden and eventual outbreak) and to realize that anticipation is the joke itself about how we as audiences often have a developed convention of how a 'realistic' family is portrayed. In film (or on television), we do expect a little overt drama because being 'normal' is quite mundane. The Strange Little Cat is just as mundane, but strange for one to admit that its quirkiness will affect you in that familiar intimate setting.
Posted on:

11 March 2016

By:

Administrator

Author: Carmela Akiatan