VIFF: The Chaperone and 1987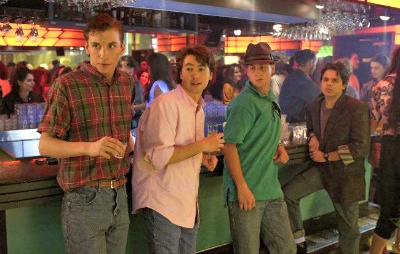 September 30th was Canadian triumph, with screening of two Canadian films written and directed by creative Quebecers. The screening I attended opened with the Canadian short film, The Chaperone by Fraser Munden and Neil Rathbone and was followed by Ricardo Trogi's 1987.
The short, The Chaperone, is about an African-American schoolteacher fighting off a drugged-up motorcycle gang in '80s Francophone Canada after they invaded the student dance he was chaperoning.
This film is a delightful take on one man's defiance against the odds. Its unexpected mix of comedy, sensibility, and visual forms are vastly creative and entertaining - from piñatas in the form of enemy gang members' heads being blown up, to the disco music and mix of animation sequences within creatively staged sets (some in stop-action). This short film has real heart and visual panache. The mythic story of one man against many - like a sensitive, yet goofy Western - is both a tribute to human courage and homage to the real-life teachers who inspired the director-producers. 
The funny, coming-of-age retro romp 1987 that followed is an autobiographical film written and directed by Ricardo Trogi, in French with English subtitles. This comedy is about a 17-year old Ricardo who is about to graduate and still has a lot to learn about life. His priorities, as stated early on, are sex with his perfect but conventional girlfriend, opening a teen disco, getting a car, and getting into a local pub without being ID'd.
Ricardo, played by Jean-Carl Boucher, is both boyish, confused, and profound -- an unconventional rebel who is a misfit but an adorable and highly relatable one. His dark looks, occasional impudence with slight overbite and round eyes, help him perform confused cusp-of-manhood bravado and innocent immaturity as he gets into all sorts of teenage troubles. He even tries on different personas to ease his way into adulthood. For example, he assumes the role of business manager with a short pleather tie (as he asks the bank for a loan), a lover (with his virgin, straight-A girlfriend, Marie), a slacker student in T-shirt and jeans, and as Mafioso in slicked back hair and oversized black blazer to rob cars of radios. 
This character rants, struts, and bumbles his way toward a tentative maturity. His parents are admirably and enthusiastically played by Sandrine Bisson and Claudio Colangelo. The ending as Ricardo rides off on a quest - I won't tell you for what - is somewhat abrupt and unconvincing, as the image of the hero riding off over green fields is clichéd. Despite this, Ricardo's coming-of-age is warm, witty, and most of all, imperfect.
Posted on:

11 March 2016

By:

Administrator

Author: Denise Mok