Drunk Stoned Brilliant Dead: The Story of the National Lampoon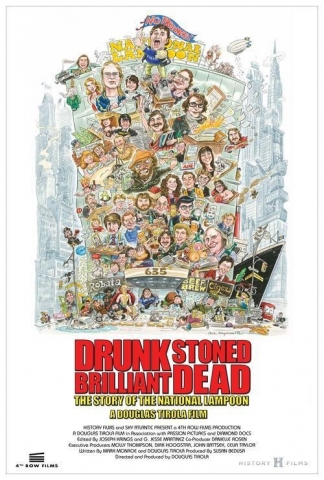 (USA, 2015, 92 mins)
Director: Douglas Tirola
Nowadays, National Lampoon is a brand that has for the most part faded from popular culture. You might remember National Lampoon as part of the title of late 70's and 80's classic comedies like National Lampoon's Animal House or National Lampoon's Family Vacation films (those family road trip movies with Chevy Chase in them). But the name started as a satire magazine (like MAD Magazine for adults) and in its heyday, it was the epicenter of the hottest talent in the American comedy scene. This documentary traces the history of National Lampoon mostly through its four founders Douglas Kenney, Henry Beard and Rob Hoffman—along with publisher Marty Simmons, as the National Lampoon brand name went from a struggling political magazine to radio show to eventually making movies.
You may not know this, but it was National Lampoon (as series of concerts and touring improv shows) that gave comedy legends Bill Murray, Gilda Radner, John Belushi and Harold Ramis among others their start (in fact Saturday Night Live producer Lorne Michaels later poached most of these talents for SNL when the Lampoon empire imploded). Many other household names like PJ O'Rourke and various The Simpsons TV show producers also got their start at National Lampoon. 
This documentary mostly traces the journey of the magazine and the colorful characters who worked there. As the title implies the magazine was an explosive mix of creative and unstable but brilliant minds--and a lot of drugs. The film does suffer since two out of the four founders are now dead, so we can only hear anecdotes from the former staffers who survived their depressions and addictions. Also the film maker re-uses the same found footage of John Belushi, Bill Murray and Gilda Radner so much that you also want the film to focus on another aspect of the story so we don't have to see the same National Lampoon radio skit practice session for the four or fifth time. On the positive side, former SNL and Vacation star Chevy Chase gives a memorable anecdote about his best friend and Lampoon founder Douglas Kenney.
Drunk Stoned Brilliant Dead: The Story of the National Lampoon is a must see for any hardcore Saturday Night Live fan, former National Lampoon reader, or anyone who wants to trace the roots of American comedy.
Posted on:

11 March 2016

By:

Administrator

Author: Scott Wood