SNFU, Left Spine Down & Last Plague
CJSF volunteer Scoot White reviews the SNFU, Left Spine Down and Last Plague show at the Biltmore Cabaret on November 27th, and this is what he had to say....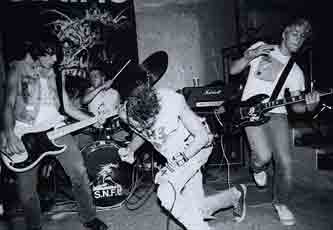 On Friday November 27th, doors opened to a motley blend of punk, hardcore, and industrial fans. Those in attendance at the beginning of the show  were greeted by a mooning ass onstage. A ass belonging to front-man Heath Fenton of local hardcore act Last Plaque. Draped in a corrosion of conformity t-shirts, Fenton head banged a shaggy brown mop between guitarists Tim McGuinness and Brett Rooth respectively. Bassist Dave Marrow in particular, and drummer Steven Huston gave Last Plague a great bottom end groove, which enabled members to lock in and focus on the task at hand. 
They kicked it off  their set with "Hooker in a Ditch" from their full length Sex and Murder CD (Synthetic Sounds 2009.) These tunes were a catalyst for  more bodies making their way onto the hardwood to soak up the sights and sounds. Titles like: "Bullshit Decay" and "Seal the Deal" seemed to set the tone for onlookers searching for something a little edgier. "Imperfection" and the closing "Dead Fucker" were the only two cuts to make it from their self-titled debut E.P.
Clad with spiked hair and wearing black industrial garb, Left Spine Down took the stage around 11 pm. Vocalist Kaine D3L4Y seemed in his element; combining stage presence with a chain-link mic-stand, a raised foot and megaphone. Guitarist Matt Girvan wore a "Plow 4:20" tee, likely in homage to one Mr. Plow; while a fit-looking, sleeveless drummer, Tim Hagberg lent solid time to the skins. Keys and effects man Jeremy Inkel (Front Line Assembly) provided great work on LSD's set; filling in admirably on the notable bass void. Covers of "She's Lost Control" (Joy Division) and "Territorial Pissings" (Nirvana), proves this band has quality influences in its repertoire. The half dozen originals performed are contained on their full-length Fighting for Voltage disc. This homegrown act could be described as industrial-punk fusion. With song titles like Last Daze, and Prozac Nation, its obvious Left Spine Down isn't afraid to take notice.
Somewhere around midnight and a hefty bar tab, iconic punk outfit SNFU took the stage. Original member and singer Mr. Chi Pig was certainly in full form that night. Slithering and rolling about in typical fashion as he belted out in reckless abandon. Left handed guitarist Goonie Flemming and bassist Just Denis (both ex of Dog Eat Dogma) fixed their posts at Chi's wings, while drummer Shane Smith (ex-Jackalope) pushed on with a solid back beat throughout. Classics from the catalogue were sewn into the 27 song set, including "Painful Reminder", "Don't Have the Cow" and "Rusty Rake". "Cockatoo Quill" and "Head Smashed in Buffalo Jump" from the last studio pressing.  In the Meantime and In Between Time were particular highlights for fans of newer material. After the initial set they returned to the stage to do a five song encore starting with 1986's "Where's My Legs?" and ending off a great evening with "Cannibal Café" from the '84 debut record. For more info on all three bands, please check myspace.com for details.  
Posted on:

12 April 2016

By:

Administrator

Author: Scott White