CJSF Pride 2019: next week!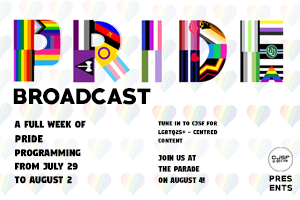 Are you ready for Vancouver Pride? We here at CJSF sure are! 
Every day from July 29th to August 2nd you can tune in to CJSF 90.1 FM to hear a wide variety of LGBTQIA2S+ centered content, from special episodes of your favourite talk programs to boppin' Pride playlists.
Also, keep an eye out for our marching group in the Vancouver Pride Parade on Sunday, August 4th: we are looking for volunteers to march with us! If you want to walk in the Pride parade as a part of CJSF's marching group, please email Ciara at cjsfoutr@sfu.ca.
We are also having a button making party at the station on Friday, July 26 from 4pm-6pm. So, drop by and help us make all the buttons we need to spread CJSF Pride at the parade!
Date:
Wednesday, July 24, 2019 - 17:30
Posted on:

24 July 2019

By:

cjsfpr