World Radio Day playlist for 02/13/2018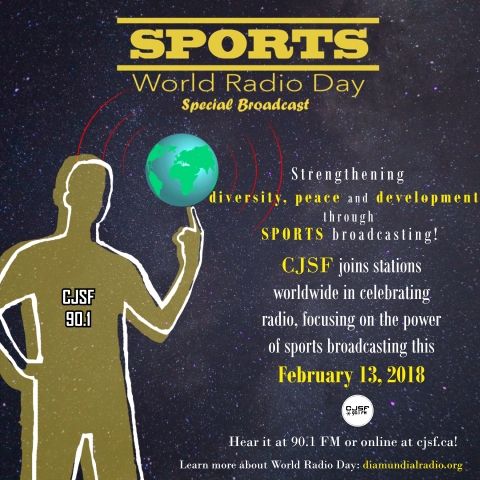 | Artist | Title | Album | Label | Link |
| --- | --- | --- | --- | --- |
| | | | | |
CJSF Programming Coordinator Robin hosts & shares special programming for W

orld Radio Day 2018,  a chance to strengthen diversity, peace and development through sports broadcasting.
Diversity in Sports Coverage - Through the coverage of traditional and grassroots games, radio can reconnect people with their cultural heritage, promoting freedom of expression and diversity through cultural expression.
Gender Equality in Sports Broadcasting - Sports coverage is hugely powerful in shaping norms and stereotypes about gender. Radio has the ability to challenge these norms, promoting a balanced coverage of men's and women's sports and a fair portrayal of sportspeople irrespective of gender.
Peace and Development through Sports Coverage - Through greater coverage of sports for peace and development initiatives, the universal values of non-violence, solidarity and tolerance are recognized and celebrated.
Highlighted/Featured Program:
Posted on:

18 January 2018

By:

cjsfpa