Speak Up, Listen Up, Act Upon playlist for 02/25/2022
| Artist | Title | Album | Label | Link |
| --- | --- | --- | --- | --- |
| Manu Dibango | Soul Makossa | Soul Makossa | | |
| Committed | Lift Every Voice and Sing | Single | | |
| Charlotte "Sista C" Ferrell | Love Time, Poem Time | Just for You | | |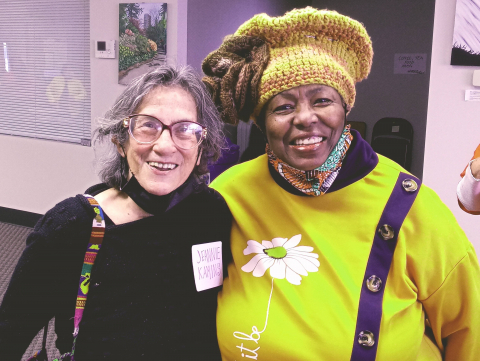 SIsta C presents another episode of the Powered By Age Podcast:
S3 E45 - Our 95th Zoomcast (February 24, 2022);
Our host #CharlotteSistaCFerrell welcomes us to Canada's longest running senior led podcast.
For this week's "breaking news", Maggie Taylor from 411 Senior Centre Income Tax Clinic talks about this free volunteer service. She answers questions and advises seniors to file by the April 30 deadline to ensure continuation of benefits such as SAFER and GIS. Gather all your information slips and phone 604 684 3171 to book an appointment. Listeners outside of Vancouver can get information about free income tax preparation for seniors in other places.
To celebrate Neall Ryon's 82nd  birthday, Dr. Ramona Srinivasen sings Nat King Cole's' You Will Never Grow Old and #CharlotteSistaCFerrell engages us in her call and response poem Neall is Always On.
Prompted by Russia's invasion of Ukraine, Neill Ryon reads his poem Hard Time Done Come, followed by the more positive poems Forgiveness and Siddhartha by the River.
Our new podcaster Amandeep Randhawa leads us in a series of yoga exercises and stretches. She offers Zoom classes every day from 8-9 a.m. Pacific Time (11-12 am Toronto time). For more information contact Charlotte Ferrell at pbaafc@gmail.com.
 
#CharlotteSistaCFerrell invites listeners to email her at pbaafc@gmail.com for an invitation to to join our Women's History Month presentations beginning March 3, as well as our 100th episode celebration at the end of March.
Sponsored by the 411 Seniors Centre Society; The Government of Canada: New Horizons Grant; and G & F Financial.
Highlighted/Featured Program:
Posted on:

25 February 2022

By:

cjsfpa