SFU Ideas & Issues playlist for 03/20/2018
| Artist | Title | Album | Label | Link |
| --- | --- | --- | --- | --- |
| | | | | |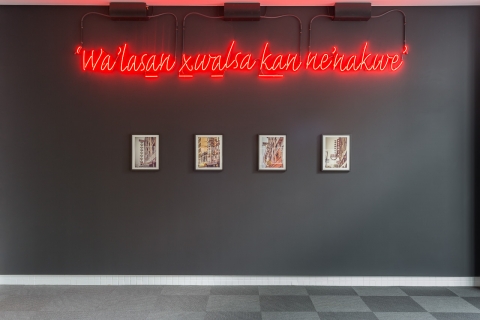 Dara Culhane in conversation with Marianne Nicolson's, Oh, How I Long For Home (2016)
Unpacking Art: Lunchtime Talks on Works in the SFU Art Collection is a speaker series that invites members of the SFU community to "unpack" the context and the questions raised by works of art in the collection.
The post-World War II years were a "boom time" in the commercial salmon fishing industry in BC. Indigenous fishers travelled from villages up and down the coast, finishing the salmon season on the Fraser River in the fall. This was a time to visit Vancouver, to go to restaurants and nightclubs, to shop for fashionable clothes, and to have your photograph taken on Hastings Street. Yet, Indigenous people like Marianne Nicolson's Kwakwakw'wakw relations captured in the street photographs she offers us in her exhibition Oh, How I Long For Home (2016) at the Teck Gallery, were not recognized as Canadian citizens during the late 1940s and 1950s when pictures like this were taken. They were not eligible to vote; women were involuntarily stripped of "Indian Status" if they married a non-Indigenous or unregistered man; men and women required permission from Indian Agents to travel outside reserves; and from 1884-1961, Indigenous people were forbidden by law to purchase or consume alcohol.
For this session of Unpacking Art, Dara Culhane will share stories told by Kwakwakw'wakw fishers, who were young men during the late 1940s and 1950s, in conversation with Kwakwakw'wakw artist, Marianne Nicolson's neon and photographic installation Oh, How I Long For Home (2016). Their memories and analysis offer a unique perspective for understanding this moment in history, and its legacy in the present. 
Dara Culhane, Professor of Anthropology, received her B.A. in Sociology and Anthropology in 1985 and her Ph.D. in Anthropology in 1994 from Simon Fraser University. Her early work concentrated on historical and contemporary relations between Indigenous peoples and the Canadian Nation State; politics and gender, health and housing in Downtown Eastside Vancouver; and collaborative research methodologies. Culhane's current research explores Experimental Ethnography, Storytelling and Performance. She is co-founder and co-curator of the Centre for Imaginative Ethnography, a transnational cybercollective, and two works in progress are: Encore! Travels With The Ghost of Margaret Sheehy, a memory-work life story, and Hear Me Looking At You! a dramatic storytelling performance.
Marianne Nicolson ('Tayagila'ogwa) is of Scottish and Dzawada'enuxw First Nations descent. Her artistic and academic practices are platforms to advocate for Indigenous linguistic and cultural resurgence. Her work has been exhibited at Vancouver Art Gallery, Art Gallery of Greater Victoria, National Indian Art Centre, UBC Museum of Anthropology, 17th Biennale of Sydney, National Museum of the American Indian, Confederation Centre for the Arts, and Taipei Fine Arts Museum. She has undertaken numerous public artworks. She holds a PhD in Linguistics and Anthropology from University of Victoria, an MFA in Visual Art from University of Victoria and a BFA from Emily Carr Institute of Art & Design. The work in the SFU Art Collection is the neon in the image above.
Highlighted/Featured Program:
Posted on:

29 March 2018

By:

cjsfpa