The Jazz Spectrum playlist for 03/03/2019
| Artist | Title | Album | Label | Link |
| --- | --- | --- | --- | --- |
| Ingrid Jensen | Marsh Blues | Vernal Fields | | |
| Jennifer Scott Quartet | Chance | Chance | | |
| Jodi Proznick | So Near, So Far | Sun Songs | | |
| Company B Jazz Band | On The Sunny Side Of The Street | Company B Jazz Band | | |
| Karin Plato | Sorrow | This Could Be The One | | |
| Anita Eccleston | Time After Time | More Trumpet | | |
| Mimosa | DaLama | Youtube: Sechelt Arts Festival 2012 | | |
| Laura Crema | Love Be Kind | Fotografia | | |
| Angela Verbrugge | The Night We Couldn't Say Good Night | The Night We Couldn't Say Good Night | | |
| Chelsea McBride's Socialist Night School | Arrival Of The Pegasus | The Twilight Fall | | |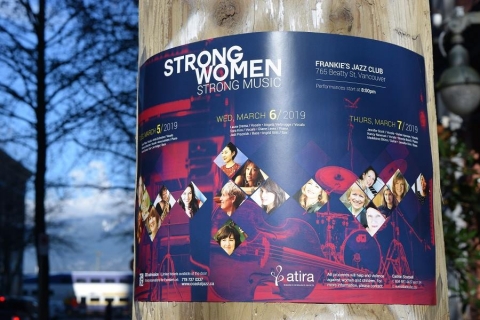 Strong Women, Strong Music
March 8th is International Women's Day and from March 5-7, Frankie's Jazz Club hosts "Strong Women, Strong Music", a 100% fundraiser to support Atira's Enterprising Women Making Art Program (EWMA).  Each night features a different lineup of Vancouver's finest female jazz musicians and vocalists.   I am featuring some of the artists who will be appearing this week at Frankie's as part of "Strong Women, Strong Music".
For information about the concerts and tickets go to www.coastaljazz.ca.
Atira Women's Resource Society helps women and children who are escaping domestic violence.
For sixteen years EWMA, has provided safe, income-generating opportunities for women who are struggling with poverty, substance use and or mental wellness, and who have been impacted by violence /abuse; opportunities that are free from exploitation and judgement. EWMA is a place that for many women, makes hope possible.
To find out more about Atira and their programs go to their web page at www.atira.bc.ca.  You can also email them at info@atira.bc.ca.
Highlighted/Featured Program:
Posted on:

3 March 2019

By:

Jazz Spectrum