IntraVenus playlist for 08/23/2017
| Artist | Title | Album | Label | Link |
| --- | --- | --- | --- | --- |
| | | | | |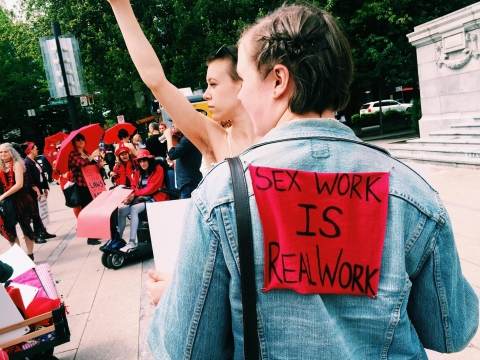 The first half of this week's episode features Youth For A Change, an lgbtqia2s+ activist and advocacy group, based in Surrey British Columbia. Youth For A Change members educators and activists. Members are 13+ and most identify as lgbtqia2s+, and others as allies. On Sunday, August 19th, Youth For A Change was a feature performance at 'The Spoken Word Stage' at the New West Pride street festival.
Web: https://youth4achange.com 
Twitter: @youth4achange
Instagram: @youth4achange

The second half of this week's episode is the premier of part 2 of our radio documentary series 'I'm A Sex Worker'. As a final project for Dr. Mary Shearman's GSWS 320: Sex Work - local issues in a global context, class, Caroline Doerksen, Micaela Evans, Carol Leung, Madi Pomreinke and Xizi Wang produced the radio documentary series 'I'm A Sex Woker'. This radio documentary is rooted in politics of decriminalization and comes from a sex work-is-work understanding. The intention of the radio documentary is for community media space to be utilized in sharing stories and creating new forms of knowledge production. 
Thank you to CJSF 90.1fm for being a space to host my feminist radio show 'Intravenus' and for being a community platform that disrupts mainstream news media and allows for alternative expressions and ideas. Thank you to the Simon Fraser University "Gender, Sexuality and Women's Studies" Department for funding the project. All proceeds went to the folks who participated in conversation with. Thank you to Bandidas on Commercial Drive for donating gift cards to all folks who participated in conversation. Thank you to my classmates; Micaela Evans, Xizi Wang, Madi Pomreinke and Carol Leung for participating in the planning, creation and execution of the radio documentary series on the lived realities of sex workers in the lower mainland. Thank you to Leah Horlick, at the SFSS Women's Centre, for sitting down with us and providing us with resources. Thank you to Mary Shearman, for supporting us. The biggest thank you is dedicated to all of the folks in my life who gave their time to this project; Angela, Carmen, Ms. Erica, Amber and Terri-Jean. Your wisdom, thoughts, experiences, knowledges and stories will live on, disrupting the powerful regimes. Storytelling, the creation of the radio documentary series and this paper was written on the Unceded traditional territories of the Musqueam, Squamish and Tsleil-Waututh peoples, on whose land was never given, sold or signed.
Highlighted/Featured Program:
Posted on:

23 August 2017

By:

carolinedoerksen