The Rap Guide to Evolution
Let's be real for a moment. As important of a text Decent of Man is, it is one dry read. Seriously, have you tried to sift through the gaudy jargon and period writing tropes with a casual interest? Absolutely not happening without frequent breaks, the occasional nap, and several pots of coffee. Incidentally, I have never had that opinion about hip-hop. In fact, I get wildly interested when I hear a rap song for the first time. Whether it is the crème of the genre or YouTube clip of some 9 year old thinking that 2Chainz is the perfect role model, I'll listen with the same level intrigue. Baba Brinkman apparently understands that both of these opinions are popular, so of course, a marriage between them is the most unique way to engage the former. The result is the magnificently thoughtful Rap Guide To Evolution.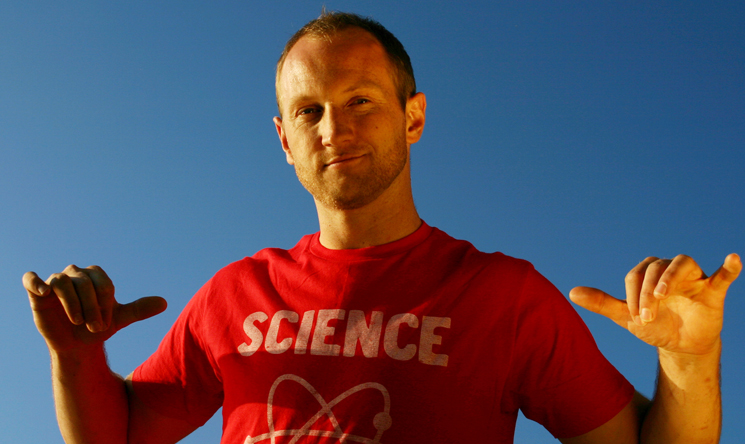 Admittedly, although I find the genre fascinating, my knowledge of rap music, from the history to the culture, is non-existent. Fortunately, Brinkman's delivery dissected much of the culture and trends of the genre, while breaking down the sociology behind rap music. Some of the more interesting alignments he made addressed the hyper-masculine tendencies of male rappers and their quest for genetic survival by fundamentally presenting themselves as having the 'fittest' genes.
Although his references to hip-hop are used mainly to garner perspective on Darwin's material, he presents them in a manner that is thoroughly academic. Using stats, chart and graph comparison, and other trends for analysis, he uses the theory of Evolution as a pointed way to address global concerns. While my only real complaint is that his 90-minute show over-simplifies many global issues, his presentation shows heart and good intent. If anything, Brinkman's Rap Guide to Evolution is very much the touchstone for anyone moved by his performance to further investigate.
With the critical aspect of his arguments aside, it should be known that Brinkman has mad flow. One challenge that Rap Guide demands is that he needs to find a way to integrate some rather large words into a very strict, rhythmic type of music; Brinkman does so effortlessly. While well scripted, Brinkman never stumbles and spits with conviction and authority on the matter, earning him legitimacy as an MC. Of course, his free-style set at the end of the evening only drove the point home as he answered questions from the crowd via a long form, improvised rap.
Early on Brinkman establishes the fun behind The Rap Guide to Evolution, whether it was encouraging a members and connoisseurs of East Vancouver's art scene to call back "I'm A African" or performing 'evolutionized' versions of classic rap songs. But he brings home an important message in a surprisingly academic matter: at the end of the day, ones genetics are subject to our autonomy; we have the choice to be good people, and those are the genes we need to survive. This may not be the first time we've heard this message, but I'd be surprised if you ever hear this way again.
Posted on:

18 March 2016

By:

Administrator

Author: Jamie Cessford