The Wedding Present
Tuesday April 20th Scott White checked out the Texas band Girl in a Coma & The Wedding Present at the Biltmore Cabaret. Read on for his Rockabilly review.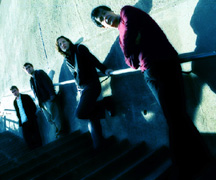 The San Antonio, trio Girl in a Coma took the stage at 8:30 that night. Sisters Nina Diaz (lead vocal and guitar) Jenn Alva (bass and backup vocals) and Phanie Diaz (drums); were greeted initially by a small crowd on the dance floor but as the music pumped on, more bodies gathered, and made their way to the hardwood to feel the flood of rockabilly infused black edge-country. 
Songs like "BB" "Vino" and the slow moving "El Monte" twanged into the pores of music fans waiting to get into that Deep South groove. Plenty of female onlookers, bopped to the tattooed rockers who expressed a variety of hair colours and musical variations. Warm Epiphone bass tones, driving beats of Gretsch drums, and the ever present openness of a Fender guitar filled the room.
Comparisons are made between The Breeders and Sleater-Kinney somewhat in look, but to a greater degree in indie-rock tempo. Midway they also seemed to pay tribute to female music pioneer Joan Jett on the track "Joannie in the City". They closed out their set with Diaz singing in Spanish on the Latin influenced "Ven Cerca".  
At about 9:30, members of The Wedding Present made their way to the stage. Founder and sole original member David Gedge (Guitar & Vocals) was front and centre with Stratocaster in hand as Terry de Castro (Bass & Backing vocals) and Graeme Ramsay (Guitar) plugged in and made their way to his wings. A calm looking Charlie Layton (Drums) crouched behind a simple black Pearl kit. 
Unbeknownst to some, the primary reason for the evening was to showcase the spinning and swirling guitar blends on 1989's Bizarro. However they did not immediately indulge the crowd with tracks from the sophomore breakthrough as expected, as Gedge jovially spoke with the crowd only to surprise, and go haphazardly into the back-catalogue, delving into 1994's Seamonsters to pull out "Corduroy" as well as tossing out newer material like the slow but burning "I Lost the Monkey" from 2008's El Rey.
After a half dozen samplings, the guitars blazed forward into Bizzaro with hits like "Brassneck", "Kennedy" and "Granadaland". The room took on a cosmic feel as hues of space slowly spread out to become "Bewitched" and onto the over 9 minute opus that is "Take Me!" The crowd was lifted into a trance by the song, only to be brought back softly with "Be Honest". Then, expectedly, the lights came up onto the floor through the applause and smoky back beats; as a band notoriously known for its "no encore" policy did not disappoint. Further details on both bands can be found respectively at: The Wedding Present    & Girl In A Coma
Scott White
Posted on:

12 April 2016

By:

Administrator

Author: Scott White